Fiction becomes reality with the selling of Hannah's Hearts
CCJ to sell hand-crafted gifts to raise funds for the charity

By
Nanci Hutson
|
HutsonNanci
Originally Published: December 14, 2017 6 a.m.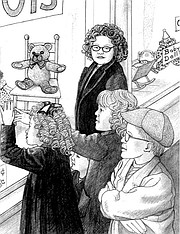 Open the cover of Diane Iverson's 21st illustrated story, "Hannah's Heart," and you are traveling back in time to Prescott's Christmas City, circa 1935.
For one struggling ranch hand's family of five young children, the eldest almost 11, the realities of the Depression are juxtaposed against the bright lights and decorations of the Christmas season; the desire to honor the giving spirit of Christmas sets the stage for a brand of magic oft forgotten in this century.
In the first chapter of a fictional story of real Prescott places, Hannah Meadows' heart opens wide as she watches her exuberant younger brothers and sisters eye the toys they hope Santa delivers to them on Christmas Eve — a Shirley Temple doll, a Buck Rogers space ship, a baby doll, a stuffed bear.
Hannah knows her Mom and Dad barely have the money to pay their mortgage and keep them fed and clothed, never mind afford to buy a special toy. She hatches a plan to become one of Santa's helpers – she crafts hand-embroidered hearts to sell to patrons of the Elks Theater.
Her "plain old hearts" prove to be far more precious than anything she imagined — as it is her "heart" for giving the characters, and readers of this story, will come to celebrate.
"All you see is your 'plain old hearts' but I'm thinking God has given other people eyes to see what's in your heart," reads a passage delivered to Hannah from a shop owner in one of Iverson's chapters.
For those who know Iverson, an author, artist and illustrator who is a founder and special projects director for the Coalition for Compassion and Justice in Prescott, this story is surely a metaphor for her life, one devoted to caring for families who like those in this story are striving to endure the struggles of the times with dignity and hope.
"It's just marvelous," CCJ Executive Director Paul Mitchell said of his colleagues' latest book of how love and doing for others resonates in communities everywhere. "Diane's work is always a sensitive portrayal of challenges that real people face, whether in the 1930s or today. Diane is a champion of people who need support and help. And this book continues Diane's legacy of keeping track of the most vulnerable folks in a community."
Conceived almost a year ago, Iverson and CCJ Assistant to the Director Gail Haugland were brainstorming about projects to benefit the organization when Iverson shared an idea that Haugland just knew she had to write: a historic tale of the town oriented around CCJ's "heart" for those who have known misfortune yet often are the most selfless, determined and heroic people in the community.
"I love the book … the characters are pretty fleshed out, and you can really empathize with Hannah," said Haugland, one of about 30 or 40 women who have embarked on a project inspired by the book – small and large hand-crafted and embellished hearts to be sold for between $5 and $25 with the proceeds to benefit CCJ's programs for families in situations not unlike that of Hannah's family.
Beyond the heart sales, Iverson's story has inspired a play script by Melanie Eubank slated to be performed on Nov. 30 and Dec. 1, 2018 at the Ruth Street Theater. Those proceed will benefit CCJ and the Prescott Unified School District's Family Resource Center.
"Diane's efforts have always been so durable, consistent, ongoing and perpetual, and this play will embody her life's work," said Mitchell of what he expects will be a recurring, Prescott-unique holiday tradition.
Iverson admits she is excited that this body of work might make a permanent change in people's hearts as they celebrate the holiday season.
Though Iverson is careful not to give away the plot, she said this book rooted in Prescott history is all about "family devotion and bringing our best to a desperate situation and hoping that will be enough."
After all, Iverson said, "love is what Christmas is all about."
More like this story
SUBMIT FEEDBACK
Click Below to: