Prep Basketball: Falcons rally late, top Bradshaw Mountain
By
Doug Cook
|
dougout_dc
Originally Published: December 13, 2017 11:40 p.m.
Photo Gallery
BMHS vs Cactus Shadows Basketball 121317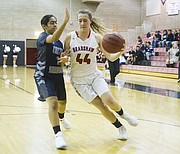 If the Bradshaw Mountain girls' basketball team had any chance of upsetting 4A stalwart Cactus Shadows Wednesday night, the Bears needed their zone defense to be suffocating and their shooting to execute in the clutch.
In Bradshaw Mountain's 2017-18 home opener at Gary Kunow Gym in Prescott Valley, its defense played inspired, but its offense showed that it required work after suffering a 37-25 loss to the Falcons.
Cactus Shadows, the two-time defending 4A state runner-up, extended its winning streak to seven games Wednesday by outscoring the Bears, 15-9, in the fourth quarter. The Falcons had mustered 10 points total in the second and third periods.
"We had open looks in our zone offense – we ran a variety of zone offenses against them – we just couldn't make a shot," sixth-year Cactus Shadows coach Richie Willis said. "So, I told them to just be patient in the offense and start to move the ball a little more and not be so impatient. Then that starts to stretch the zone and creates seams, and we got better looks at the basket."
Bradshaw Mountain's main problem was that it converted just 3 of 17 field goals in the first half and trailed, 14-6, at halftime. The Bears tied the Falcons, 14-14, with 2 minutes and 5 seconds left in the third quarter, however, before Cactus Shadows snapped out of its funk.
"Any time you play the second- or third-ranked team in the state, they're experienced, so they figure things out pretty quickly," Bears coach Rick Haltom said. "They made a couple shots [late], and that's what good teams do. And we missed some really easy shots."
The Falcons went on to outscore Bradshaw Mountain, 23-11, in the final 10 minutes of regulation once their shots started falling against the Bears' effective 2-3 zone defense. Cactus Shadows reserve forward Hailey Garalczyk led all scorers with 14 points, eight of which came in the second half. She went a perfect 6 for 6 from the free-throw line, too.
Three Falcons starters netted seven points apiece, including junior guard Samantha Sullivan, sophomore guard Chloe Johnson and senior guard Ariana Torres. Sullivan added five rebounds, three assists and three steals.
"I was just trying to get my teammates open and just make sure that they had a better game than I did, because I wasn't hitting shots and I figured that they would," Sullivan said. "Everyone came together in the second half."
For Bradshaw Mountain, only starting senior point guard Mica Nellis registered double-figures scoring with 11 points, seven of which came in the second half.
"We needed to keep our heads in the game and stay locked down on defense," Nellis said. "We needed to focus more [while in our offense]. But, overall, we played fine. Our shots just weren't falling. I know our ability, and I know we can compete with teams like this. We just have to have the confidence."
Bradshaw Mountain junior center Delanie Clark had four points and nine rebounds. She said that the Falcons' defense, which played a full-court press in spots, hindered the Bears, who committed 27 turnovers.
"Definitely, their press sort of freaked us out a little bit," Clark said. "We did work on that, and we did a really good job breaking it. But, at times, it still flustered us and we weren't able to calm down and break it, and be able to set up [our offense]. This was definitely a good learning curve for us."
Cactus Shadows played its second of three games in as many days on Wednesday, while Bradshaw Mountain competed in its second of three games in a five-day stretch.
With the loss, the Bears dipped to 3-6 overall and 3-3 in power-point games. The Falcons improved to 8-2, 7-0.
"It's been a grind all season," said Willis of Cactus Shadows, which lost starting senior point guard Caitlyn Bickle to a season-ending knee injury at a Club tournament in Washington, D.C., in July. "We lost eight seniors [to graduation] last year. I come off the bench with four sophomores and a freshman. So, the growing pains of the young kids is something we're dealing with. But they're coachable, they're teachable."
UP NEXT
Bradshaw Mountain (1-2 region) travels to Cottonwood to lock horns with Grand Canyon region foe Mingus Union at 5:30 p.m. Friday.
Cactus Shadows visits Greenway at 7 tonight in Phoenix. The Falcons are not scheduled to play again until the Lady Titan Winter Classic Dec. 28 at Arcadia High School in Phoenix.
Doug Cook is a sports reporter for The Daily Courier. Follow him on Twitter at @dougout_dc. Email him at dcook@prescottaz.com or call 928-445-3333, ext. 2039.
More like this story
SUBMIT FEEDBACK
Click Below to:
This Week's Circulars
To view money-saving ads...