Higley edges Bradshaw Mountain girls' soccer in home opener
By
Doug Cook
|
dougout_dc
Originally Published: December 13, 2017 6:05 a.m.
Photo Gallery
BMHS vs Higley Girls Soccer 121217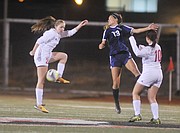 After spending its first two weeks of the 2017-18 regular season on the road, Bradshaw Mountain's girls' soccer team began a campaign-long three-game home stand with a nail-biter against 2017 state tournament qualifier Higley Tuesday night.
In the 4A contest at Bob Pavlich Field in Prescott Valley, Higley of Gilbert edged the Bears, 1-0, on sophomore Kiara Kossak's volleying goal in the 29th minute on an assist from Hailey Gilliam. Bradshaw Mountain goalie Delaney Johnson raced forward to make a play on the ball after a defensive mistake, which resulted in the 10-yard tally.
"The ball was coming over my head, and I was scared that I wasn't going to hit it – I was going to hit it over [the goal]," Kossak said of her second goal of the season. "But I barely tapped it with my foot, so I knew it would go over her [goalie Johnson]. She was at an angle that I could've gone side to side, but she was ready for it so I had to go over."
With the victory, Higley of the Desert Sky region improved its record to 8-1 overall and 4-0 in power-point matches. Fifth-year Knights coach Mark Etechamendy said the 40-degree temperatures in Prescott Valley and his players' fatigue from competing in seven matches in six days this past week affected their game.
"We've had only two days of rest, so it showed today [Tuesday], and they're not used to the altitude and the cold," the coach added. "This year, I have a lot of depth — probably the most depth I've had on a team. I was able to play my bench a lot more than I have in the past. Really, I've got more than 11 starters."
Bradshaw Mountain of the Grand Canyon region dropped to 3-2-1 and 1-1. Bears freshman midfielder Hailey Denman said Higley's pressure defense paid dividends for the visitors.
"It was pretty congested in the middle [of the field] whenever we were trying to go," Denman added. "So, it was hard for us to make that final pass or to get in and get that shot off."
Despite the loss, the Bears played the Knights closely with a lineup plagued by illness, particularly on defense. Several Bradshaw Mountain players are suffering from head, throat and chest congestion, Bears coach John Sterling said.
Sterling thought his offense struggled because the Bears had become accustomed to playing on fields the width of a white-lined football field, rather than the 15 extra yards on each sideline at Pavlich that are marked in yellow.
"I kept telling them, 'We've got to get outside these white lines on the attack,' " Sterling said. "Once we adapt to playing back home, we'll be a lot better. Higley was clearly tired in the second half, and we just didn't take advantage of it. We weren't getting the ball off our foot quick enough."
Bradshaw Mountain's attack struggled to penetrate Higley's back-line defense most of the evening.
"They had a very good line, that when we put it in [their end], they were good at holding their line," said Bears senior halfback Bailey Rozendaal, one of those who played sick. "We didn't have any offsides, but what they were good about shutting down the center of the field, where our key players are. That's probably what we struggled with."
However, the Bears' defense still stood its ground in the second half.
"Their defense was really strong, and it was really hard to get past them, dribbling-wise," Kossak said. "We'd have to kick it over them and boot the ball, and just for me to run on to. But they're really good, and they connected passes really well."
The Arizona Interscholastic Association (AIA) will release its first 4A power-point rankings of the 2017-18 season in girls' soccer on Jan. 4.
Those rankings determine the 16-team field for the 4A state tournament. The Top 8-ranked squads at the end of the regular season automatically qualify for state. The Top 9-24 teams will compete in a state play-in tournament to determine the final eight qualifiers.
Rozendaal hopes Bradshaw Mountain's in the playoff conversation at the end of the season.
"This is probably, in my four years, one of the better teams that we have had," Rozendaal said. "We're good both in offense and defense. So, if we just continue to try not to make many mistakes, then we'll have a good chance."
UP NEXT
Bradshaw Mountain will play the second of its three consecutive home matches in eight days versus Cactus Shadows (5-2, 2-1) of Cave Creek, a 2017 4A state quarterfinalist, at 6 p.m. Thursday at Pavlich Field.
Higley returns home to face Youngker of Buckeye at 6 p.m. Friday.
More like this story
SUBMIT FEEDBACK
Click Below to: