Business: Do holiday parties help improve morale?
Yes, employee engagement equals higher productivity

By
Max Efrein
|
mefrein
Originally Published: December 10, 2017 6:05 a.m.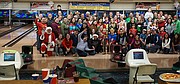 As the business magnate, investor and philanthropist Richard Branson once said, "the way you treat your employees is the way they will treat your customers."
One common way companies have celebrated their employees for ages is by hosting holiday parties.
Despite the occasional horror story, such get-togethers are still quite popular. According to a survey released by global outplacement consultancy Challenger, Gray & Christmas Inc., 80 percent of companies plan to host holiday parties this year — about the same as last year.
With only about 49 percent of employers saying they'll be serving alcohol this year, these parties aren't necessarily the booze-injected dance offs one may imagine. Instead, many of today's company-wide gatherings are simply about getting everyone in the same room to eat, mingle and be appreciated.
For instance, Julie Gorman, owner of Wild Iris Coffee House in Prescott, has hosted a holiday party for her employees the past nine out of 10 years Wild Iris has been in business.
The event always takes place after hours in the shop and features a catered meal, various forms of gift giving, and some dancing toward the end.
"It's one of those eat and be merry things where all of us are together," Gorman said.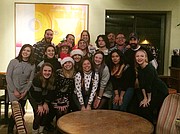 She believes providing opportunities like this is a great way to help employees decompress from the daily rigors of the job.

"I know my employees work very hard and there's a lot of pressure on them to be happy all the time and to give 100 percent every day," Gorman said.
It's also an opportunity for everyone within the business to actually meet and converse with each other. For those who work different shifts or in different departments of the business, this doesn't always happen naturally.
"They come in at different points, so sometimes you'll have people who just cross paths in the middle of the day, but they'll never actually work with a person, so it's really fun to see who gets along with who and who finds who funny," Gorman said.
Getting everyone together for one occasion is challenging, however, especially for larger companies such as MI Windows and Doors in Prescott Valley, which has 347 employees.
To manage this, the company hosts employee engagement opportunities throughout the year.
"We always have team member engagement things," said Allison Mendibles, Regional Human Resources/Safety Manager at MI Windows and Doors.
Turns out fostering such comradery is not just good for morale, but productively and morality as well.

Teams with high employee engagement rates are 21 percent more productive and have 28 percent less internal theft than those with low engagement, according to a recent study by Gallup.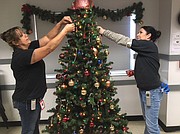 Gorman also noticed that many of her employees — who are usually quite young — don't have a very good sense of the traditional extended family and friends get-togethers that were perhaps more common in generations past.
"So part of it is trying to teach them what it feels like to be a guest; how warm and fuzzy it feels," she said. "And then that's also what we want them to have our guests feel like."
More like this story
SUBMIT FEEDBACK
Click Below to:
This Week's Circulars
To view money-saving ads...