Acker Night hits the right notes
Road One South band says this was their final performance at the event

Originally Published: December 10, 2017 6:05 a.m.
Photo Gallery
Acker Night 2017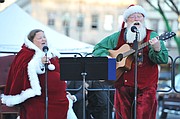 Whether it was their first or their last, Friday night's Acker Musical Showcase united downtown Prescott in Christmas cheer and music.
Though she's lived in the area for a few years, Lindsay Pavelka said this was the first Acker Night she attended. She said she always wanted to check it out though, Pavelka said.
"We've lived here for three years, but we've never made it before," she said. "We like the music and we love the Christmas stuff in Prescott."
Pavelka said she was having a great time getting the feel of it all and seeing friends.
There were even people from out of state. Ron and Mary Castle and Don and Debbie Samardzich said they came all the way from California.
Some of the performers were participating in their first Acker too, such as Lee Peterson who was singing at French Hen Boutique. Peterson said he loves to do music and performing at Acker sound like a lot of fun. With money donated during the event going to private lessons scholarships for young musicians, it's a big deal too, he said.
"There's so many kids that really have so much talent," Peterson said. "That talent does not get really fertilized in so many situations where they get to be my age and say 'I could have done this' or 'I could have done that."
It may have been the first Acker Musical Showcase he performed in but Peterson said he knew what to expect as his wife's sisters live in the area and he's seen it before.
Others were enjoying an event they had come to know and love over the years. It was the fifth year for Cold Water Band who performed at Black Arrow Jewelry & Art, said guitarist Bud Marsh. The band keeps doing it because they enjoy helping the children, Marsh said.
"We love the music of course, but we want to do what we can for the scholarship fund. That's our No. 1," he said. "We like to give back to the community where we can."
Tamara Stanton said it wasn't her first Acker either. In coming to watch some friends dancing with Summer's DanceWorks perform, Stanton said it's fun to come out and see what everybody's going and enjoy all the different talents.
It was a bittersweet Acker Night for Road One South Blues Band. After nine years of Acker Night performances, six of which were at the Elks Theatre and Performing Arts Center, Friday was the band's final year performing at the event and their last major performance, said drummer Dwight D'Evelyn.

"We've enjoyed it immensely. It's been an honor to work with all these kids over the years," D'Evelyn said. "We're just ready to pass the torch and let another band come in and try to do the same thing."
Road One South has been together for more than a decade and have had a great run, he said. They'll do some small gigs throughout the rest of next year, but Acker Night was kind of their swan song, D'Evelyn said.
For the last few years, Road One South featured several individual young singers and players and Friday, they did so performing with Sugar and the Mint. It was exciting being able to join forces with another band that's well-known around Prescott, said Sugar and the Mint lead vocalist Johan Glidden.
Sugar and the Mint has performed at Acker Night for a few years and he and his sister have been performing at the event since they were little kids, Glidden said.
"Many of us in the band have been Acker scholarship recipients in the past," he said. "That definitely paid for a lot of my lessons. Everybody in here, I think, has benefited from Acker. It's cool to be a part of giving back."
More like this story
SUBMIT FEEDBACK
Click Below to: