Church News: Week of Dec. 9
Originally Published: December 9, 2017 6:05 a.m.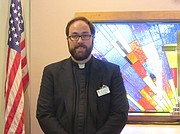 All Saints Anglican Church will hold the Institution of Reverend Ian Dunn as Rector of All Saints, 10 a.m., Dec. 9. A luncheon will immediately follow the church service. Please join us in officially welcoming Father Ian Dunn as the Rector. All are welcome. 1806 N. Savage Lane, Prescott.
On Friday, Dec. 15 at 6 p.m. All Saints will have its annual Christmas party. All are welcome to join the fun, food and camaraderie.
Christmas Craft and Bake Sale 9 a.m. to 3 p.m., Saturday, Dec. 9 at Faith United Community Church 1061 Old Chisholm (Dewey in Prescott Country Club). Turn at Highway 69 and Maverick and follow signs.
35+ vendors with craft & gift items, sewn goods, seasonal items, hats, aprons, goat milk soap products, jewelry, baked goods, wood items, blankets, T-shirts, books, and much more! 50-50 cash raffle. Chili, hot dogs, beverages.
For more information, call Andrea at 928-775-6866.
Holiday Joy – 3 and 7:30 p.m. on Dec. 9, Two Shows!
Once again, the Prescott Chorale has prepared a wonderful holiday gift. Holiday Joy - Two Christmas concerts, 3 and 7:30 p.m. on Dec. 9, both held at St Luke's Episcopal Church, will uplift the spirits of audience and performers alike. The earlier concert is specifically designed to appeal to multi-generational audiences with many carols, a children's choir, and delightful, tuneful Christmas music. The evening concert will still feature carols and melodies to make the heart glad, but will also feature repertoire of a slightly meatier nature. Both concerts will have music by the premier brass players in the area. And don't forget the homemade Christmas cookies that have become a signature of this happy event.
A very special element in both performances will be two settings of "O Magnum Mysterium." Conductor and artistic director Dennis Houser says "So often Christmas focuses on the tinsel and garland of Christmas, joyous though they are. These two pieces focus on the mystery and wonder of the Virgin Birth which is the true centerpiece of Christmas. Come and be enthralled."
Tickets are also available from members of the Prescott Chorale. These concerts normally sell out, so don't delay.
St. Luke's Episcopal Church is located at 2000 Shepherds Lane, Prescott (near the airport, at 89 and Ruger).
"The Starry Night of the Soul" is the topic at the 11 a.m. service at Prescott Unitarian Universalist Fellowship. Toben Squires, seminarian and member of Granite Peak Unitarian Universalist Congregation will lead the congregation in an exploration of Van Gogh's "Starry Night" and the Deep Field image from the Hubble Space Telescope. Jonathan Best will contribute his own unique music to the service.
Toben Squires is an Arizona native. He graduated from NAU with degrees in Philosophy and Music. He is a former underwater construction worker and he currently works in home health physical therapy in Prescott. He is a second year seminary student at Starr King School for the Ministry. He has a wife, two daughters and 2 dogs. He enjoys looking at issues that straddle the intersection between art, science and faith and hopes to work as a military chaplain upon graduation from Starr King.
Free Christmas concert and nativity display Sunday, Dec. 10
Capture more of the Christmas spirit this season by attending the 6th Annual Community Christmas Concert and Nativity Display. The live concert will feature traditional music celebrating the birth of Jesus Christ.
This free concert and singing celebration is hosted by the Prescott Valley Arizona Stake of The Church of Jesus Christ of Latter-day Saints.
The concert begins at 7 p.m. on Sunday, Dec. 10 in the LDS Stake Center Chapel located at 7073 Pronghorn Ranch Parkway in Prescott Valley near the intersection of Highway 89A and Viewpoint Drive.
The program will include a choir and orchestra under the direction of Glennis Miller. The public will be invited to join the choir in the singing of traditional Christmas carols.
The doors open at 5:45 p.m. to view nativity sets from around the world. Refreshments will be served after the program.
Sam Rotman, renowned international concert pianist, will perform at the Prescott Community Church, 3151 Willow Creek Road, 3 p.m. on Sunday, Dec. 10.
Mr. Rotman is a Juilliard trained pianist who has performed in the International Tchaikovsky Piano Competition in Moscow and has won numerous competitive piano awards, including Laureate Winner in the International Beethoven Competition in Vienna. He has released several classical recordings and media presentations on his life and testimony have been produced.
The public is invited to this performance by Mr. Rotman, a pianist whom reviewers have described as "an exceptional virtuoso" and "a thoughtful interpreter whose playing is convincing and alive." Mr. Rotman takes a moment before each work to explain the piece, thus heightening the audience's appreciation of the music. There is no admission charge; a free will offering is suggested. For more information, please see pccaz.org.
Sunday, Dec. 10, Sunday School Christmas Program at 8, 9:15, and 10:45 a.m.
Sunday, Dec. 24, 9:15 a.m. Christmas Cantata Choir presents "Bethlehem Morning", 3 p.m. Children's Christmas Service, 5 p.m. Liturgical Candlelight Christmas Service with Holy Communion, 7 p.m. Praise Candlelight Christmas Service with Holy Communion.
All are welcome to join with Beit Torah Jewish Congregation (www.onetorah.org) in celebrating Chanukah with song and good food: first candle eve Dec. 12 and then each night through daytime Dec. 19. Please call for details and directions: 928-237-0390, 227-0582 or email ansheitorah@cableone.net.
Trinity Lutheran Church, 3950 N. Valorie Drive, Prescott Valley invites all to the Wednesday evening Advent services. The services will be Dec. 13, and 20 at 5:30 p.m. with a light supper to follow. You are also invited Sunday, Dec. 10, for the Sunday School Christmas Program at 8, 9:15, and 10:45 a.m.
"Blue Holiday Vespers," Thursday, Dec. 14 at 6:15 p.m.
A delicious dinner at 5:30 p.m. precedes this service. R.S.V.P. for dinner to 928-541-0000. The vespers service at 6:15 p.m. will be a quiet, contemplative, healing service in the sanctuary. The purpose of this special gathering is to acknowledge the sadder side of the holidays, the sorrow that can be magnified behind all the joyful noise. A ritual of healing will be shared.
People of all faiths are welcomed, encouraged and nurtured. Granite Peak is a compassionate spiritual community that celebrates diversity, nourishes the personal and spiritual growth of all ages, shares gifts, promotes justice for all and serves the world we live in.
For more information, visit http://www.prescottuu.org/.
For more information, please visit us on Facebook at: https://www.facebook.com/granitepeakuucongregation.
Temple B'rith Shalom will Celebrate Chanukah Festival of Lights on Dec. 15
Temple B'rith Shalom, Prescott, will mark the Jewish holiday of Chanukah—the Festival of Lights—at 5 p.m. on Dec. 15. The synagogue will observe Chanukah with a brief Shabbat service, celebration of the Temple's 40th anniversary, candle-lighting and good food. Children will have lots of opportunities to play and enjoy the Festival of Lights.
Chanukah is an eight-day observance that commemorates the successful revolt, ca. 200 BCE, of the Maccabees and their allies against the oppression of Antiochus IV, a Greco-tyrant of the Selucid Empire who massacred Jews and attempted to wipe out Jewish practices. The Holy Temple in Jerusalem was desecrated under Antiochus.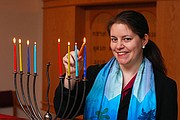 "The Festival of Lights enables us to bring a much needed ray of light to the darkness that envelopes so much of the world," said Rabbi Jessica Rosenthal, spiritual leader of Temple B'rith Shalom. "The Maccabees overcame the darkness of their time and fought for their religious freedom."

A tradition holds that, when the victorious Maccabees entered the Holy Temple, they couldn't find any pure olive oil to kindle the menorah, a sacred candelabrum used in the Temple in Jerusalem. Their search turned up a small jar that contained only enough oil to burn for one day. "Instead it burned for eight days, providing the light and the hope that they needed to rebuild and rededicate their holy space," Rabbi Rosenthal added. "The Jews considered it a great miracle."
To commemorate the miracle, Jews light candles in their menorahs for each of the eight days that the jar of oil burned. "Chanukah means to dedicate—and helps us to recall the moment — when the Maccabees rededicated the Holy Temple," Rabbi Rosenthal added. "We're inviting our Jewish families to bring their menorahs to our Temple and to light them, as a united community, as a symbol of our belief in the miracle."
Chanukah is a special, joyous, time for Jewish children. "Many families give children a small gift for each night of Chanukah, "Rabbi Rosenthal noted. "We also eat special foods, such as potato latkes (pancakes) and sufganiot—jelly doughnuts--because they're made with oil, reminding us of the oil that burned for eight days."
This year, the Chanukah setting will add the perfect context to celebrate Temple B'rith Shalom's 40th anniversary as a formal Jewish presence in the area. In 1977, Irv and Shirley Brohner placed an ad in the Prescott Daily Courier that read, "Nice Jewish couple would like to meet other Jewish families." The ad garnered just five responses but it was enough to get things started. The next year, the community held their first Chanukah party. The Temple hired its first full time Rabbi in 1996. After holding gatherings in several houses and rented spaces, the congregation was able to secure a piece of land and build a Temple building that was dedicated on January 11, 1998. The Temple community continues to grow through social justice, religious programming, education, and through its partnering with other faith traditions in the area to bring about positive acts of loving kindness, education, and community building.
This year, Chanukah begins on the evening of Dec. 12. Candles are added to menorahs for each night of the eight-day holiday. The Temple's celebration, on Dec. 15, will fill the synagogue with light from dozens of menorahs, to dedicate a special moment of thanks to the congregation's founding couple and share the hope that Jews will continue to be a positive presence in the greater Prescott community.

Jewish families interested in attending Temple B'rith Shalom's Chanukah celebration should contact the Temple at 928-708-0018 to reserve a place. Reservations will be first come - first served.
Christmas Gift Shop, over 20 vendors, candles, Christmas décor, jewelry, toys, art and more! 9 am to 3 p.m., Friday, Dec. 16. Living Faith Church, 7225 N. Coyote Springs Road, Prescott Valley, AZ, 928-775-3025.
The Christmas Journeys, Sunday mornings in December, Pastor Randy Vanesian, 8:30 and 10:30 a.m. Sunday School for children of all ages, 7225 N. Coyote Springs Road, Prescott Valley, AZ, 928-775-3025. See us online at livingfaithonline.co. Facebook @LivingFaithChurchPrescottValley.
Trinity Lutheran Church, 3950 N. Valorie Drive in Prescott Valley will be holding Christmas Eve Services on Sunday, Dec. 24. The times are as follows: 9:15 a.m. Christmas Cantata Choir presents "Bethlehem Morning", 3 p.m. Children's Christmas Service, 5 p.m. Liturgical Candlelight Christmas Service with Holy Communion, 7 p.m. Praise Candlelight Christmas Service with Holy Communion.
St. Germaine Catholic Church—Christmas Mass Schedule. Christmas Eve – Sunday, Dec. 24 – 4 p.m. (Children's), 6:30 p.m. (Spanish), and 9 p.m. Christmas Day - Monday, Dec. 25 – 9 a.m. The church is located at 7997 E. Dana Dr. in Prescott Valley. For additional information, please call 928-772-6350.
More like this story
SUBMIT FEEDBACK
Click Below to: