Acker Night to fill the air with music

Originally Published: December 8, 2017 5:57 a.m.
Photo opportunities
• A giant snow globe in the vacant lot next to the Prescott Chamber of Commerce at Goodwin Street and Montezuma Street. It's new this year
• Santa's tent on Gurley Street
• Wells Fargo Stage Coach on Cortez Street
Food/Drink
• Calvary Chapel – hot chocolate on Cortez Street
• Starbucks – hot chocolate and coffee on Gurley Street
• Wildflower Bread Company – pie on Gurley Street
Roads downtown are closed and flooded with people, there was finally an open parking space in the Sprouts parking lot and now it's time to begin the trek into the heart of Prescott to listen to the music of Acker Night — except music can already be heard from Sprouts, Springhill Suites and AAA.
This year's Acker Night, the 30th since the event started in 1988, is so spread out that no matter where someone parks on the outskirts of town, when they walk in, they're walking into Acker, said J. S. Acker Music Park Association President Scott Currey.
"Wherever you park as you're walking in, you're going to hear music and see groups. I can't think of something we don't have," he said. "We've had the bellydancers for quite a few years, we have bluegrass, we have country, we have rock 'n' roll, we have blues. We even have fire dancers."
Scheduled for 5:30 to 8:30 p.m., Friday, Dec. 8, with the opening ceremony at 5 p.m., there's nearly 130 businesses showcasing more than 140 groups this year, he said.
One of this year's performers is Road One South, which is putting on their last Acker performance at the Elks Theatre and Performing Arts Center, 117 W. Gurley St, according to a news release from drummer Dwight D'Evelyn.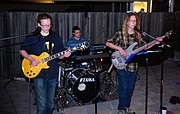 After five straight years of shows at the Elks Theater highlighting solo and joint performances with young Prescott area musicians, the band is passing the torch, D'Evelyn wrote. They'll be joined by local bluegrass band Sugar and the Mint.
"Last year we set a record for donations at the Elks Theatre and are honored by the community support for Acker Scholarships," the release states. "Past performances have featured several individual young players and singers as well as members of the Prescott High School horn section. Last year the band showcased the incredible Bradshaw Mountain High School's 32 member Choral Union, performing with and without the band. Acker monies have touched all these programs."
At each location, there's an Acker tip bag which is how the association is able to give back, Currey said. J. S. Acker's goal was to introduce people to downtown businesses and encourage children's music and this year, the association was able to give 52 scholarships for private lessons and $3,500 to each school district for their music programs, he said.
For the 15th straight year, Fancy That!, will have a musician in its store and for the third straight year, owner Sara Murray is selling Acker Night scarves, according to a news release from Murray. She's ordered 1,000 tartan plaid scarves which will sell for $10 each and all the money will go to the Acker scholarships.
Though there's a lot of time and difficulty spent in putting together and organizing Acker Night year after year, seeing it come together makes it all worth it, said Currey.
It's a rare community event that brings together local musicians to raise money for a worthwhile cause during the holiday season.
"The night it happens, it's magic and it's really a hometown event," Currey said. "There's not another city in the United States that we're aware of, and we've tried to check, that does this. It's a very unique night."
Acker night programs are available at www.ackernight.com and hard copies will be at Santa's tent and participating stores.
More like this story
SUBMIT FEEDBACK
Click Below to: