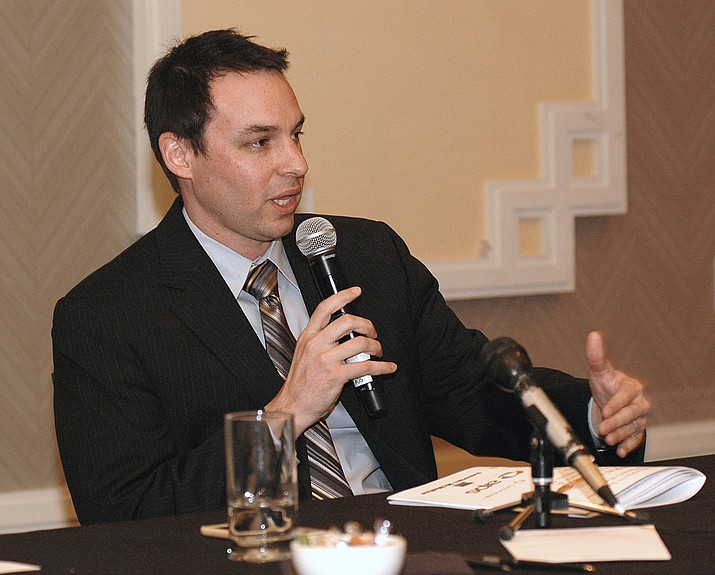 Originally Published: December 7, 2017 5:58 a.m.
PHOENIX -- Arizona taxpayers could be on the hook for up to $18,000 to pay the legal fees of lawmakers accused of ethics violations.
House Speaker J.D. Mesnard has authorized up to 20 hours of legal work on behalf of Reps. Don Shooter, R-Yuma, Michelle Ugenti-Rita, R-Scottsdale, and Rebecca Rios, D-Phoenix, who were named in complaints and became the subjects of an internal probe to see if there is truth to allegations against them. That inquiry is the first step to determine if any House rules were violated and whether lawmakers should face a disciplinary hearing.
Each attorney is being allowed to charge up to $300 an hour.
But Mesnard told Capitol Media Services if the investigation leads to formal disciplinary charges, the lawmakers will be on their own financially.
That's not going to happen in at least one of the cases.
Late Wednesday, the chairman of the House Ethics Committee dismissed the complaint against Rios that has been filed by fellow Democrat Ray Martinez of Phoenix.
In a letter to Martinez, Rep. Eddie Farnsworth, R-Gilbert, said that complaints of violations of House ethics rules need to be based on "facts within the personal knowledge of the individual making the complaint." But Farnsworth told Martinez his complaint that Rios had "inappropriate relationships," including one with someone who had been a House staffer at the time, "appears largely based upon information you have overhead from others."
And there's something else. Farnsworth said even if Martinez did have such first-hand knowledge — Rios has refused to comment —nothing he accused her of doing violates any law, rule or House policy.
That conclusion also could be good news for Ugenti-Rita.
One of the two allegations made against her by Shooter is that she entered into a personal relationship with a House staffer. But based on what Farnsworth concluded about Rios, that may not be grounds to pursue that issue.
It was not immediately known how much Rios' lawyer had run up in legal fees.
Mesnard defended letting all three legislators use state dollars to get legal help.
He said if any lawmaker were under investigation it would be the obligation of the House of Representatives, as their employer, to provide legal assistance. But with all the House lawyers now tied up doing the probe, Mesnard said that left outside counsel as the only option.
Not everyone is in agreement.
"I believe it is wholly inappropriate for the taxpayers to have to provide for a defense that has nothing to do with the business of the people," said Majority Whip Kelly Townsend. "I oppose this idea and hope that the decision is reversed immediately."
That's not going to happen. Mesnard said it's only fair and appropriate to give lawmakers facing charges -- some from other legislators -- some legal help during this stage of the investigation.
The most serious of the allegations are against Shooter, with allegations by three female lawmakers, multiple lobbyists and even a newspaper publisher of inappropriate comments and harassment. That includes a claim by Ugenti-Rita that he commented about her breasts and sought a sexual relationship.
Shooter responded by filing his own complaint against her, saying not only did she enter into a romantic relationship with a House staffer but also she had made a comment during a committee hearing about masturbation to a male legislator.
Mesnard responded to all the complaints by putting together a committee of House staffers, including attorneys from both political parties, to take a closer look. That panel, in turn, hired a private lawyer, Craig Morgan, to do some of the actual digging.
That potential $18,000 cost for legal fees for the three legislators could prove to be the least expensive part of the probe.
Morgan's contract says he will be paid what he called a discounted rate of $325 an hour, with other members of the firm who get involved in the probe billing at $400 an hour. The contract does not specify a maximum amount.
The speaker said he hopes to have the entire inquiry wrapped up -- including any hearings of the Ethics Committee if it comes to that -- before the Legislature returns for its regular session on Jan. 8. But he conceded that may not be possible.
At this point -- and with the facts now available -- Mesnard said it's only fair to provide legal help to the three legislators.
"Right now you have member-to-member accusations flying fast and furious," he said.
But at this point, that's all they are. So Mesnard believes they're entitled to at least some legal advice on the investigative process at this stage.
"The alternative would be me saying, 'Sorry, I'm investigating you, now you've got to go come up with money out of your pocket because of an accusation,'" he said.
"Any organization, if it has folks within the organization accusing others of misconduct, I think they're going to follow a very similar process," Mesnard said. "They're going to do their own investigation. It's going to involve the attorneys of the business."
Only if and when that inquiry by that business finds reason to believe someone acted improperly would the obligation to provide legal help to the employee be cut off," he contends.
"I just consider their counsel an extension of the investigation," Mesnard said of the taxpayer-provided legal help for the three lawmakers at this stage. "It's to make sure an investigation happens properly."
And there's something else behind his decision.
"I'm trying to make sure that, on the other side, I'm not liable if they come back and say, 'You investigated me, you need to pay for my attorneys, you didn't pay, and now you're on the hook for the whole thing,'" Mesnard said.
The speaker conceded that the inquiry into Shooter, who faces allegations beyond those filed by fellow legislators, "complicates things a bit." But Mesnard said he still believes the best course of action is to provide the 20 hours of legal help to him, too.
Mesnard's fear of the House being liable for more serious legal bills if it doesn't front some legal costs for accused legislators raises a different issue: Should the lawmakers be forced to reimburse taxpayers if an investigation leads to charges and the Ethics Committee ultimately finds them guilty of violating House rules?
"That's an interesting question," Mesnard responded. But the speaker said he believes the use of tax dollars are appropriate as the legal fees are limited solely to the investigative part of the inquiry. All that changes if the findings result in an Ethics Committee hearing.
"That's why it makes sense at that point if there's any subsequent issues that the legal fees are on them, on the legislators," he said. "But at this point we are fact finding."
None of the lawmakers have issued specific responses to the allegations against them.