Quad Cities in Brief: Garrison Keillor performing at YC in February despite recent allegations
Originally Published: December 7, 2017 5:50 a.m.
Garrison Keillor performing at YC in February despite recent allegations
Yavapai College Performing Arts Center (YCPAC) has announced that renowned storyteller and former "Prairie Home Companion" host Garrison Keillor is still on its 2017-18 season schedule despite him recently being accused of inappropriate behavior in the workplace.
On Wednesday, Nov. 29, news broke that Minnesota Public Radio (MPR) was terminating its contracts with Keillor and his private media companies, citing "allegations of his inappropriate behavior with an individual who worked with him." Further details were not provided as the multiple allegations are currently under investigation by MPR.
Before the announcement was even officially made, Keillor jumped into action to defend his reputation and has since posted several comments on both his website and social media.
"I've been fired over a story that I think is more interesting and more complicated than the version MPR heard," Keillor said in a statement posted to his website.
In an email to a shortly after his firing, Keillor told his version of an incident he believed was in question.
"I put my hand on a woman's bare back," he wrote. "I meant to pat her back after she told me about her unhappiness and her shirt was open and my hand went up it about six inches. She recoiled. I apologized. I sent her an email of apology later and she replied that she had forgiven me and not to think about it. We were friends. We continued to be friendly right up until her lawyer called."
Keillor later told the Associated Press that he has not seen the allegations MPR is investigating and that the story he shared publicly was the "only incident he could remember."
Keillor's performance at YCPAC is scheduled for Wednesday, February 28.
Yavapai College said it will remain that way "unless new information compels the college to review its choice."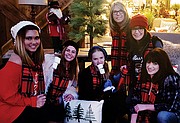 3rd Annual Acker Night Scarf Fundraiser Sponsored by Fancy That!
It's the most wonderful night of the year...Fancy That! has participated and sponsored a musician in the store for most of the 15 years it has been open in Prescott. This year will be the 3nd Annual year to buy an Acker night scarf. They ordered 1000 red tartan plaid scarves this year. They feel like a really nice cashmere scarf. Fancy That! collects a $10 donation for each scarf and all the money will go to the Acker Scholarships. 1000 times $10 will bring in $10,000 dollars. That is their goal for 2017. The vision is to have everyone wandering around downtown wearing the same plaid scarf showing they have supported the Acker event. The owner felt like there was something more we could do for raising money for the scholarships as well as giving something to the public for attending. So it was good for all…Last year there was a great response to the fund-raising event. They sold out in an hour and a half with 300 scarves and collected over $3000. So this year they ordered more scarves. Again, they hope to see people sporting their last year scarves as well as wanting to donate again to have a 2017 scarf…Scarves will go on sale starting at noon on Acker Friday, Dec. 8 at both Fancy That! locations. Fancy That! 124 S. Granite and Fancy That! Home & Holiday Store 109 S. Granite--just a skip across the street (across to and next to the Downtown Parking garage on Granite Street.) They will also be available during the Acker event up on the square at the Acker information booth. Fancy That! will be hosting musicians at both locations and of course their ever so popular bon fire with complimentary s'mores. This is our favorite night of the year and all for a good cause!
Santa will also be available at Fancy That's The Home And Holiday Store for free pictures during the Acker event.
Democratic Women of the Prescott Area Holiday Fundraising Party, Dec. 10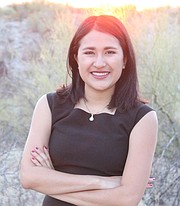 The Democratic Women of the Prescott Area (DWPA) are hosting their annual Holiday Fundraising Party, 5 to 8:30 p.m., Sunday, Dec. 10, at the Hassayampa Inn, Marina Room. This year's guest speaker is Joseline Mata, Vice Chair Arizona Democratic Party and President of the College Democrats of America.
The biggest DWPA fundraising event of the year begins with a silent auction from 5 to 6 p.m., followed by a traditional Italian buffet dinner from 6 to 6:30 p.m. Mata speaks at 6:30 p.m., followed by DJ and dancing at 7 p.m. Cash bar 5 to 8:30 p.m.. Tickets are $50 per person and $90 per couple, tables of eight are $350. Tickets may be purchased with a credit or debit card using https://secure.actblue.com/donate/dwpa-fundraiser or by check to DWPA. RSVP and ticket purchase deadline is Wednesday, Dec. 6.
DWPA was founded in 1990 by Jerry Emmett, who said "We must continue to do our part to make sure our voices are translated into action." The DWPA organizes petition drives, letter-writing campaigns and demonstrations, as well as talking to elected officials about issues that matter. Another key mission is to provide annual educational scholarships to a graduating senior, as well as a scholarship to the Emerge Arizona program, which trains Democratic women to serve as leaders.
More like this story
SUBMIT FEEDBACK
Click Below to: