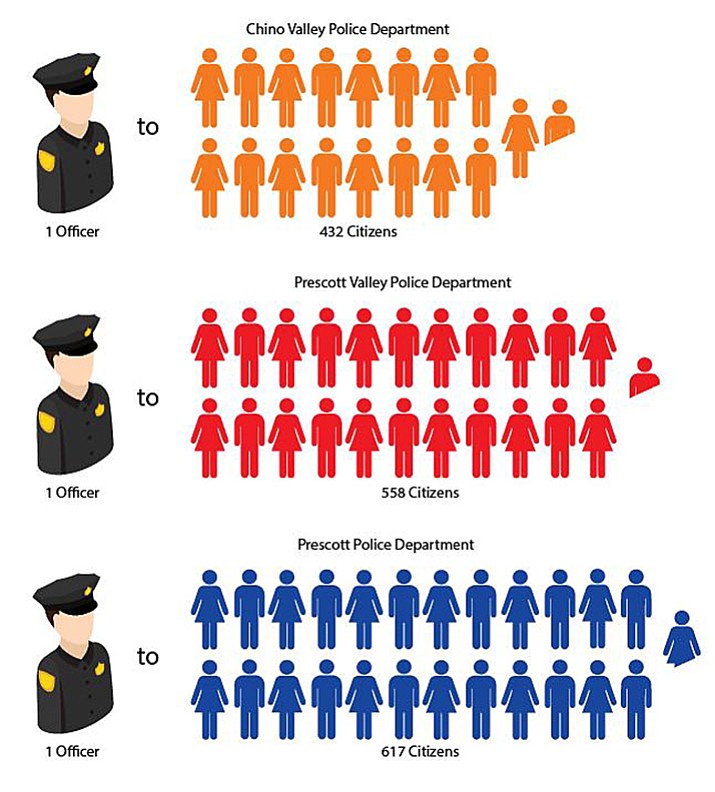 Originally Published: December 6, 2017 6:03 a.m.
Crime rankings of areas cities and towns: (Higher numbers mean more crime)
Sedona 107.8
Clarkdale 120.1
Jerome 163.8
Prescott Valley 166.5
Prescott 201.2
Camp Verde 231.7
Chino Valley 243.6
Cottonwood 269.5
U.S. Average 280.5
Wickenburg 288.5
Source: City-data.com
For the most part, residents of Prescott, Prescott Valley and Chino Valley live in safe communities.
The average ratio of police officers to civilians in the United States is 170 per 100,000 population, according to the FBI.
All three towns are close to that ratio, with Chino Valley far exceeding it.
And according to the City-Data.com website's crime index, all three are safer places than the national average.
Here they are, by the numbers:
Prescott Valley
At 77 sworn officers, the Prescott Valley Police Department has the most officers, and with 42,850 residents in the town limits, PV has a ratio of 179 officers per 100,000 citizens.
The number of officers has been on a steady rise as the population has grown from 67 in 2011.
City-data.com reports a crime rate for PV of 166.5 per 100,000 population.
The U.S. average crime rate is 280.5
According to the site, "The City-data.com crime rate counts serious crimes and violent crime more heavily. It adjusts for the number of visitors and daily workers commuting into cities."
Thefts were the overwhelming majority of the crimes reported, according to the survey, at 78 percent.
"As of today we believe our department staffing levels are sufficient. We are a full service agency," said Lt. John Woods. "In order to continue that level of service, the number of sworn officers and non-sworn personnel will need to increase as the demand for service increases."
Prescott
The city has 68 sworn officers. With a population of 41,815, that adds up to 162 officers per 100,000 people.
The City-data.com website ranks Prescott's crime rate at 201.2 per 100,000 residents.
It reported that 66 percent of the crimes committed were thefts.
"The City of Prescott was faced with numerous budgetary issues during the early and mid 2010's. This resulted in numerous City positions being frozen, eliminated or unfilled," said Lead Police Officer David Fuller. "As a result, the Prescott Police Department has had to reduce the number of officers assigned to specialty positions, so that Patrol would remain adequately staffed."
He added that, by the statistics, Prescott "would not appear to be any less safe now than it was in 2014."
Chino Valley
The town has 24 sworn officers. With retirements and new recruits attending the academy, Lt. Vince Schaan said, "We haven't been fully staffed with all sworn members out of training and in solo status in five years."
Chino expects to have a full complement of 25 officers next year. That means, with a population of 10,817, the town has 231 officers per 100,000 residents.
The City-data.com crime rate for Chino Valley is 243.6 per 100,000, which, it said, is higher than 70 percent of the places in the survey. Most of those crimes – 55 percent—were thefts, the survey said.
"On days when we have the normal, typical calls for service, it is easy to cover" the town, said Lt. Vince Schaan, but "anytime you have a major incident…utilizing OT and calling in staff and getting assistance from other agencies is the way we compensate for not having a large staff."
Additionally, Schaan said, "Our paperwork-intensive calls have increased over the last several years ... so they're taking more man-hours to investigate."