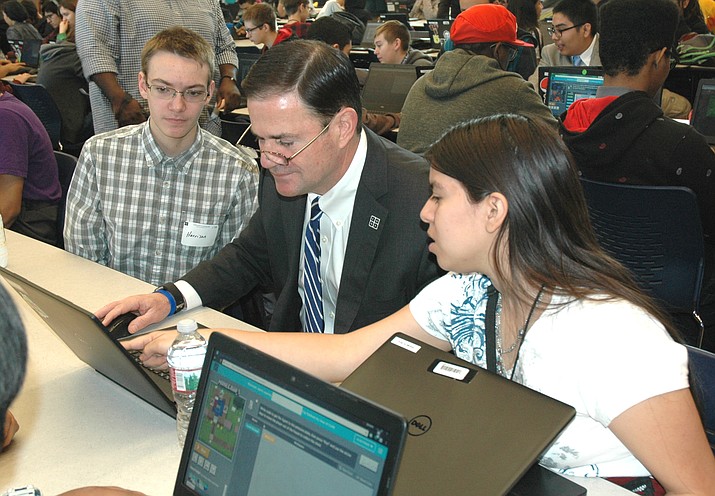 Photo by Howard Fischer, For the Courier.
Originally Published: December 5, 2017 6:01 a.m.
PHOENIX — A program to teach coding to high schoolers praised Monday by Gov. Doug Ducey as key to Arizona's economic future had to be financed by local taxpayers and grants due to the lack of state dollars.
And unless there's a sudden boost in state funding, schools in other districts that want to duplicate the program will also not get state dollars to construct a facility and buy the equipment. That, then, would leave them dependent on voters approving the kinds of bonds that financed the Phoenix Coding Academy and helped pay for the computers.
"Computer science in terms of our future and economic development is critical,'' the governor said Monday after touring the facility and talking with students.
"This is where the world's going,'' Ducey continued. "The world's changing very quickly.''
And in meeting the students, the governor told them, "there's no reason why someone in this room can't be the next Steve Jobs.''
"We want all of our public schools to have access to this type of education for our students,'' he said after the tour. "And we're starting to make that happen.''
But that did not happen here.
The state, which had agreed to fund all new schools to comply with a 1994 court ruling, stopped doing that years ago to save money. Instead, lawmakers allocated only a limited number of dollars for new construction -- this year it was $63 million -- with districts having to prove that their buildings already are overcrowded to even get a chance to bid for the available funds.
In this case, that left the only option for the Phoenix Union High School District to ask residents to pick up the tab for construction and some of the technology costs, making up the balance with federal grants.
"We've been pretty fortunate that we've been able to generate funding through bonds, overrides and capital outlay,'' said Craig Pletenik, spokesman for the district. He said the district's capital funding from the state is only $1.8 million, just 15 percent of what it was before the legislative change.
The result, he said, is the $13 million cost of the facility came out of a $230 million bond approved by voters in 2011. And the district spent $700,000 in the past two years to equip it with dollars from a 2015 voter-approved override.
Ducey brushed aside questions about the residents of the district having to vote increase their own taxes to construct and equip the facility.
"These are all state dollars,'' he said. "They come from people in the state and taxpayers inside the state.''
But not from state taxpayers as a whole.
And what of the computers?
"We are putting money into soft capital,'' the governor responded.
But the formula in state law for what's now called "district additional assistance'' spells out that schools should be getting $450.7 million for everything from technology to books. That formula hasn't been fully funded for years; this year schools are getting just $69 million.
Ducey said progress is being made, saying funding is 10 percent higher now than when he took office in 2015.
As to what's to come, Ducey said he will release his budget plan for the coming school year in January.
"There will be additional dollars for K-12,'' he said. "And there will be talk about the opportunities for computer technology as well.''
He provided no specifics. And the governor remains adamant he will not consider new taxes to help make up for the losses in state funds in the past decade, losses that actually have left per-student funding below where it was in 2008 when inflation is taken into account.
Ducey has sniffed at those figures.
"The state also continues to grow,'' he said. "So, oftentimes, these statistics can be played with by number of new students in addition to the amount of money coming into the system.''
But even a report by the legislative budget office says the inflation-adjusted figure for per-student aid is below where it was in 2008. And the governor's own staffers do not dispute that number.
Ducey not only toured the facility but was given an assignment to use coding to create and program a game. He got help from some students already in the program.
"I didn't want to feel like a dinosaur,'' the governor said afterwards, noting that he did not have the benefit of computers before he graduated from high school in 1982. "But those kids are such whizzes on the computer, such whizzes with code.
And he said that ability to write code and create applications is important.
"This is where the world is going,'' Ducey said. "There's no turning back.''
More like this story