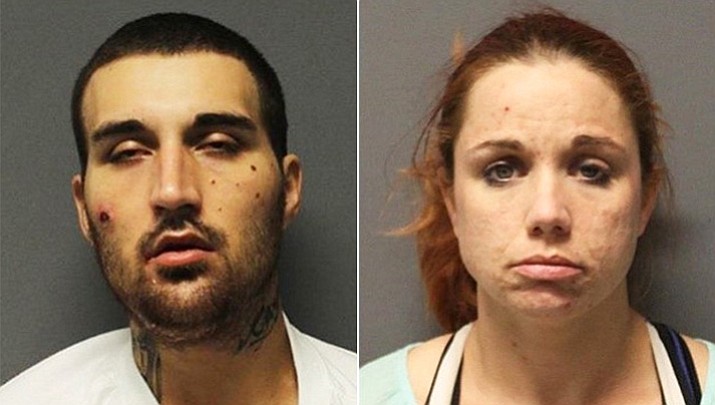 Originally Published: December 4, 2017 4:49 p.m.
COTTONWOOD – A Cottonwood Wal-Mart shoplifting arrest Nov. 24 led to the apprehension of drug traffickers.
Brandi Plikerd, 36, of California, and Eli Herrera, 31, of Arizona, were found to be in possession of a quarter-pound of heroin and almost 2 ounces of methamphetamine, according to Cottonwood police.
Early that morning, officers were called to Wal-Mart for a report of a shoplifter. A 25-year-old California man was taken into custody.
The officers' investigation revealed that Plikerd and Herrera were friends of the 25-year-old man, according to a Cottonwood Police Department news release. Both were waiting outside for him in the parking lot.
Plikerd and Herrera were found to be in possession of heroin and methamphetamine. Partnership Against Narcotics Trafficking (PANT) was contacted and took over the investigation. The street value for the heroin is estimated at $8,000, and $2,500 for the methamphetamine, according to the release.
The 25-year-old man was arrested for shoplifting – a misdemeanor charge. Plikerd and Herrera were arrested on numerous drug charges including possession of narcotic drugs transport and sale; possession of dangerous drugs transport and sale; and possession of drug paraphernalia – all felony charges.
"Thanks to the partnership between Wal-Mart Asset Protection and Cottonwood Police a misdemeanor shoplifting arrest lead to an arrest of drug traffickers and a sizeable amount of drugs were taken off of the streets," said spokeswoman for Cottonwood Police Department, Sergeant Monica Kuhlt.
Arresting officer Chris Dowell said, "To put things into perspective, a newer heroin user will ingest between 5 and 20 milligram of it a day. That would amount to approximately 10 to 15 years' worth of heroin for that user from the heroin seized. As a user builds their tolerance and their addiction grows to its height they can use 1 to 2 grams a day… so depending on their addiction level, 113 grams or approximately a quarter pound could last a user from 10 years to 6 months."