Ohio State, Georgia upset top-ranked foes, make their case
Originally Published: December 3, 2017 6:02 a.m.
INDIANAPOLIS — J.T. Barrett looked just fine Saturday. Now it's up to college football's selection committee to decide whether No. 8 Ohio State has done enough to earn a playoff bid.
Six days after having surgery on his right knee, Barrett threw two touchdown passes, ran for another and had a crucial fourth-down conversion late in the game to give the Buckeyes a 27-21 victory over previously unbeaten No. 3 Wisconsin in Saturday's Big Ten championship game.
Ohio State (11-2) claimed its first conference crown since its 2014 national championship season. The loss ended the nation's longest active winning streak at 13 and probably doomed the playoff hopes of the Badgers (12-1).
The reason: Barrett's incredibly speedy recovery.
"I didn't have any pain in my knee," he said before answering whether the Buckeyes deserve a playoff spot. "I feel like we're one of the best teams in the country."
While most athletes need at least two or three weeks to recover from minor knee surgery, Barrett told doctors and coaches he would be OK. And after watching Barrett in pregame warmups with a protective brace around the injured knee, Barrett got the starting nod and played like the three-time conference quarterback of the year.
After running nine yards to convert a third down on the Buckeyes' second possession of the game, he found a wide open Terry McLaurin for an 84-yard TD pass to make it 7-0.
Two possessions later, Barrett's threw a short pass to Parris Campbell, who turned a missed tackle into a 57-yard mistake for another score. Then after a 77-yard run by J.K. Dobbins, Barrett powered in from the 1-yard line to give the Buckeyes a 21-7 lead early in the second quarter.
Sure, Barrett made some mistakes and missed some receivers.
But the only time he really paid for it came on an ill-advised pass from near his goal line in the first quarter. Barrett was picked off by Andrew Van Ginkel, who returned it nine yards for a Wisconsin score.
Otherwise, the Buckeyes were pretty much in control.
"We expected to see the best and he was," Badgers coach Paul Chryst said of Barrett. "He's a heck of a quarterback."
Wisconsin closed the deficit to 21-10 at the half and 21-13 early in the third quarter.
The Badgers offense finally broke through early in the fourth by capping a 52-yard drive with a Chris James' 1-yard TD run and a 2-point conversion pass from Alex Hornibrook to Troy Fumagalli after a delay to repair the field. That cut the deficit to 24-21 with 12:39 to go.
Barrett's fourth-and-1 conversion on the next series set up a short field goal, and the Badgers couldn't rally on their final two possessions to save the perfect season.
Barrett finished 12 of 26 with 211 yards, two TDs, two interceptions and rushed 19 times for 60 yards.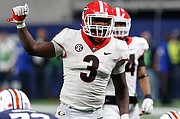 NO. 6 GEORGIA 28, NO. 4 AUBURN 7
ATLANTA — Shaking off a blowout loss to Auburn just three weeks ago, Jake Fromm threw two touchdown passes and No. 6 Georgia made its bid for a spot in the College Football Playoff with a victory over the No. 4 Tigers in the Southeastern Conference championship game.
Auburn (10-3) was the hottest team in the country, rolling into Atlanta after wins over Georgia and then-No. 1 Alabama in its last three games. But the Tigers were stymied by two crucial turnovers, a blocked field goal and a Georgia team eager to make up for its embarrassing 40-17 loss on the Plains.
Nick Chubb, Sony Michel and freshman D'Andre Swift provided a much more effective running game for Georgia than the first meeting, which opened up things for the freshman quarterback. Fromm completed 16 of 22 passes for 183 yards, including a 2-yard touchdown to Isaac Nauta in the second quarter and a 6-yarder to Terry Godwin with just over 13 minutes remaining that essentially sealed Georgia's victory.
The Bulldogs claimed their first SEC title since 2005 and capped an impressive rise in Kirby Smart's second season as coach. Georgia went 8-5 a year ago, but Nick Saban's former defensive coordinator insisted he was establishing a culture that would return the team to national prominence.
Georgia (12-1), which was No. 6 in the latest CFP standings, will surely move into the top four after its dominating performance against the Tigers. Auburn was ranked second in the CFP poll but managed only 259 yards after piling up 488 in the Nov. 11 rout.
NO. 1 CLEMSON 38, NO. 7 MIAMI 3
CHARLOTTE, N.C. — No. 1 Clemson emphatically claimed its spot in the College Football Playoff with the victory over Miami in the Atlantic Coast Conference championship game.
The Tigers (12-1) came in ranked atop the CFP and should remain that way following Sunday's final poll after their decisive show left little doubt the defending national champs are looking to go back-to-back.
Miami (10-2, No. 7 CFP) has lost two straight after rising to No. 2 in the CFP two weeks ago.
Kelly Bryant set a championship game record — and surpassed his friend and former teammate Deshaun Watson's mark of 13 — by completing his first 15 passes and finished with 252 yards passing and a 27-yard TD pass to Deon Cain on the way to Clemson's third straight ACC crown.
Bryant had one of Clemson's four rushing touchdowns and the Tigers defense made it stand up against a Hurricanes team that has been spurred on to its turnaround season by their glitzy, bling-covered "Turnover Chain" — jewelry worn by any Miami player with a pick or a fumble.
Instead, it was the Tigers who won the turnover battle (3 to 1) and held Miami to its fewest points and yards of the season to spoil the Hurricanes' first appearance in the contest since the one-time powerhouse joined the league in 2004.
NO. 2 OKLAHOMA 41, NO. 10 TCU 17
ARLINGTON, Texas — Baker Mayfield threw four touchdown passes and No. 2 Oklahoma staked claim to a playoff spot with a 41-17 victory over No. 10 TCU on Saturday in the return of the Big 12 championship game.
With their record 11th Big 12 title, the Sooners (12-1, No. 3 CFP) are a lock to get in the College Football Playoff for the second time in three seasons. They are the only Big 12 team to make the four-team playoff format that started in 2014.
Oklahoma jumped out to a 17-0 lead, including Caleb Kelly's 18-yard fumble return for a touchdown after running back Kyle Hicks' turnover on the first offensive play by TCU (10-3, No. 11).
Kenny Hill threw two TD passes to get the Horned Frogs to 24-17 at halftime, but Oklahoma scored twice on its first three offensive plays after the break.
Mayfield, the front-runner for the Heisman Trophy to be named next week, was 15 of 23 for 243 yards to take game MVP honors. The first two touchdown passes were to tight end Mark Andrews.
Hill opened the second half with three consecutive incompletions. On the first play after the punt, Mayfield hit Mykel Jones for a 55-yard catch-and-run score.
On fourth-and-1 from the Oklahoma 41 on the next drive, Hill bootlegged to the right side. Big defensive end Ogbonnia Okoronkwo chased him toward the sideline before Parnell Motley delivered the crushing blow that kept TCU's quarterback from getting a first down. Two plays later, Marquise Brown made an over-the-shoulder grab for a 52-yard TD strike and a 38-17 lead.
More like this story
SUBMIT FEEDBACK
Click Below to:
This Week's Circulars
To view money-saving ads...