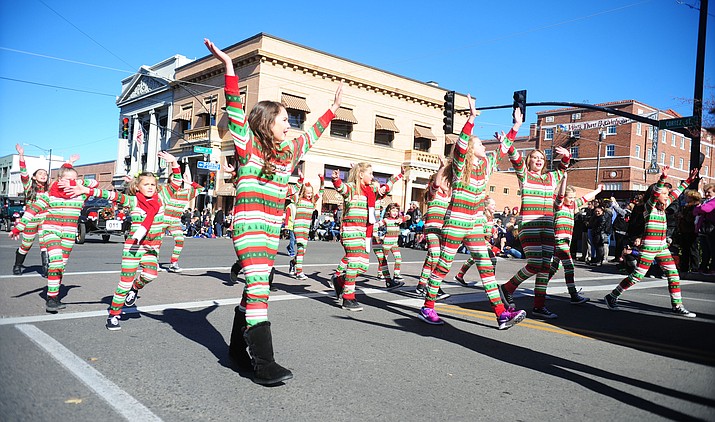 Photo by Les Stukenberg.
Originally Published: December 1, 2017 6:07 a.m.
Saturday, Dec. 2, 2017
Downtown Prescott
1 p.m. - Parade
6 p.m. - Courthouse Lighting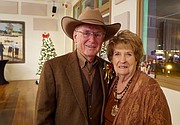 For years, Tommy Meredith had a prime spot for watching the Prescott Christmas Parade: The balcony of the Jersey Lilly Saloon, the Whiskey Row bar he owned for more than a decade and a half.
This year, his spot for the parade will be even grander.
Meredith was chosen earlier this fall to serve as grand marshal in the 35th annual Christmas Parade, which will take place at 1 p.m., Saturday, Dec. 2, in downtown Prescott.
Prescott Chamber of Commerce President Sheri Heiney says the grand marshal honor will give Meredith a seat on the top of the Wells Fargo stagecoach, while his family, including wife Joan, will ride inside the vintage coach.
The appearance of the Wells Fargo stagecoach fits well with this year's parade theme, Heiney said. "They (Wells Fargo) offered it, and it seemed appropriate for this year's theme, A Cowboy Christmas," she said.
Indeed, the choice of Meredith – a self-described "drugstore cowboy" – as grand marshal is also consistent with the theme. A lifelong Arizona resident, Meredith embodied the Whiskey Row spirit for years in his role as saloon owner.
During that time, Meredith founded a fundraiser to help with the cost of the Courthouse Lighting – an annual event that dates back decades and is set to take place at the Courthouse Plaza at 6 p.m. Saturday, Dec. 2, after the Christmas Parade.
Over the past 10 years, Meredith's effort has raised tens of thousands of dollars toward the cost of the lighting. Last year alone, the Friends of Jersey Lilly effort raised about $33,000, and the year before that, the total came in at about $32,000. Meredith says this year is shaping up to reach $40,000.
Along with his years as a well-known Prescott businessman, Meredith has deep roots in Arizona, starting with his years at West Phoenix High where he was state wrestling champion.
He went on to wrestle for Arizona State University, and later worked in homebuilding with his father in the 1950s and 1960s, before working as a real estate broker for 54 years (1963 to 2017).
Meredith's varied interests also led him to race cars, hunt big-game animals, run cattle ranches, help found Phoenix's Fiesta Bowl, and participate in the Desert Caballeros point-to-point horse race.
During his time in Prescott, Meredith said he enjoyed the history of the Courthouse Lighting and Christmas Parade. "It's part of Prescott, and part of the holidays," he said.
To emphasize the honor of being chosen as the parade's grand marshal, the Chamber of Commerce kicked off a new gala event this year. The inaugural Grand Marshal Gala took place Thursday evening, Nov. 30.
Heiney, who came on board as Chamber President in early 2017, said she brought the idea with her from her previous job in Michigan, where the gala was a community favorite.
"It will become a signature event," Heiney said of Prescott's gala, noting that this year's event at the Plaza View Ballroom in downtown Prescott was sold out, with about 200 people in attendance.
The Friends of Jersey Lilly fundraiser is still collecting money for the 2017 Courthouse Lighting, Meredith said. The drawing for the "Holdin' Position" sculpture, which was donated to the effort by local artist Bradford Williams, is set to take place after the Courthouse Lighting, at about 7 p.m., with State Sen. Karen Fann set to draw the winning ticket, he said.
Related Stories
More like this story