CD Review: 'Hillbilly Girls' an enjoyable listen

Originally Published: December 1, 2017 6 a.m.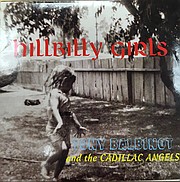 Recently, Tony Balbinot and the Cadillac Angels released "Hillbilly Girls," a 10-track album showcasing their fusion of rock 'n' roll, country and urban/delta blues.
To put it simply, it's really good!
There's not one track on this disc that doesn't make for a good time. At a little more than half an hour total, none of the songs overstay their welcome nor do they feel like padding. From the first note to when the last song fades away, every song leaves an impression of wanting to know what's coming next.
The first track, "Hillbilly Girls," is probably the best song on the album with the seventh, "Maybe," a close second. The former has a fun and upbeat tempo that largely sets the stage for what to expect in every other song and it is difficult to resist the urge to sway along with the music.
The second track, "Big Town," also showed that this wasn't going to be music where every track sounds exactly alike. It's a slower tempo with a wistful solo that makes one think of a life of wandering. It's simplistic, but enjoyable in its simplicity.
After three tracks, track four, "Harmony Grits," is a welcome instrumental song. It's the first of two on the album, "T-Bird Boogie" being the second as the eighth track. Both have their own unique sounds and grooves, helpfully providing yet another example of the group's diversity.
As mentioned earlier, "Maybe" is a close contender for the album's best song. It's also quite different than "Hillbilly Girls" as it's much slower. Letting the imagination wander as this song plays gives the feeling of a man in the middle of nowhere laying on the hood of his truck with his back against the windshield thinking about life and women.
The longest song is the final one, "Ballad of Quentin Dean," and it's so unlike any of the other songs. Immediately it piques an interest with wind, whistling and harmonica before launching into something that sounds like it came from Johnny Cash. It tells a good story and is a fantastic way to close the set.
"Hillbilly Girls" is perfect for just about anywhere, whether putting on music for a drive or filling the house with some tunes.
There's a chance to see Tony Balbinot and the Cadillac Angels live too. They'll be at the Raven Café, 142 N. Cortez St., at 7 p.m. Sunday, Dec. 9.
More like this story
SUBMIT FEEDBACK
Click Below to:
This Week's Circulars
To view money-saving ads...