Originally Published: August 31, 2017 6:02 a.m.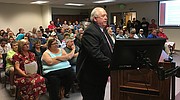 The plan to bring motorsports back to the region has hit a detour.
The man behind the Chino Valley racetrack project hinted last week that the location of the track might not be at the Old Home Manor when all is said and done.
"The Old Home Manor situation ended up being a little cloudy, and we're still working with the town, trying to find a site that will work," David Brinkley said.
Asked if that meant the site was off the table, Brinkley said, "Right this minute, I don't have anything definite in hand."
Brinkley had hoped to bring racing back this year to a region that hasn't had it since 2015 when Prescott Valley Raceway closed.
Brinkley seemed ruffled by comments made by Yavapai College President Penny Wills at a town council meeting in February, when she said the school had received 300 emails reacting to the plan.
"It seems the majority of 'yes' emails were not from your community. The majority of 'no's' were from the community," she said.
The Old Home Manor location is less than a half-mile from Yavapai College's Chino Valley campus, and the Yavapai College's District Governing Board has the right to veto the speedway.
No action has yet been taken by the board, said YC spokesman Kim Kapin.
"The president of Yavapai College doesn't know everything," Brinkley said. "She had a very specific intention with those remarks, and I don't believe they reflected the truth."
The proposal has remained controversial, with opponents expressing concerns about noise, dust, traffic, enforcement and hours of operation.
Supporters tout the economic benefits to the town, but, in February, Wills cautioned council members not to rely too heavily on the economic impact study as it does not "zero down" to Chino Valley, and the amount of money that would come to the town is not significant, she said.
Wills' other concerns included the need for an environmental study, water usage that would draw from the same source as the college, increased traffic on Perkinsville Road, decreased property values, and noise levels.
"(Brinkley) had stopped by here after we had a study session," Town Manager Cecilia Grittman said, "and he was discouraged by the comments made by the Yavapai College president … and he looked at it as going to take him more time and money than he thought was worth it, (and) that (Old Home Manor was) still on the list, but probably third or fourth on the list of sites he was looking at."
Brinkley said he felt that, despite the fact that the project has taken years, it would eventually be done.
"I'm optimistic that we'll be able to put a deal together," he said. "It's an intellectual challenge that will be accomplished. We just have to be diligent and persistent."
More like this story