Head north for Chino Valley Corn Dinner, Territorial Days
Originally Published: August 31, 2017 8:48 p.m.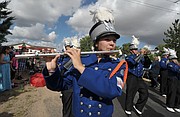 Chino Valley Corn Dinner tickets
Advanced: Single $9, Senior $8
Family up to five $40
At the door: Single and senior $10
Family up to five $45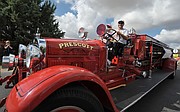 Have you been waiting all year for the Chino Valley Corn Dinner? The anticipation is nearly over for this popular event that caps off Chino Valley Territorial Days Saturday, Sept. 2. Dinner is served from 3 to 7 p.m. at Del Rio Elementary School, 1036 North Road 1 West.
The high school FFA Alumni Association will host its 67th Annual Corn Dinner, which includes a barbecue beef dinner and all-you-can-eat sweet corn. Culinary Arts program students bake pies for dessert, with individual slices and whole pies available for purchase.
But to get ready for dinner, start with breakfast and skip lunch. The Lions Club Pancake Breakfast is served from 6 to 11 a.m. at the Senior Center, 1021 W. Butterfield Road, next to Memory Park, where the 10K and the 2-Mile Run/Walk take off at 7 a.m. There's still time to enter these events which benefit the high school's cross country teams. Call 480-220-5085 to register.
By 9:15 a.m., it's time to rest up and watch the Territorial Days Parade that starts near Heritage Middle School. Entrants will stage in the shady area along Road 1 West, then head up the road to Butterfield and on to Palomino, and finish at Memory Park. This year, viewers will enjoy two marching bands. Last year, 54 parade entrants participated with "quite a few horses," said Town Manager Cecilia Grittman.
At Memory Park, children and adults can enjoy a craft show — until 1 p.m. — and a carnival with a kids' Ferris wheel, rock climbing wall, food truck chow, and music entertainment by 5 in the Wheel Band until 4 p.m. The CV Fire Department has hamburgers and hot dogs for sale.
The Corn Dinner ticket proceeds support scholarships awarded by the FFA Alumni Association, and the raffle proceeds support the victims of the Goodwin Fire.
Territorial Days is sponsored by the Town of Chino Valley, Horizon Dental, Penny Hubble State Farm and Chino Valley Schools.
More like this story
SUBMIT FEEDBACK
Click Below to: