Folk Sessions gears up for its 15th year of concerts
Originally Published: August 31, 2017 5:52 p.m.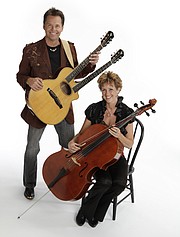 The Folk Sessions radio show presents its 15th year of live concerts in Prescott this season, bringing one of Hollywood's most iconic actors, an A-List Grammy-nominated Nashville songwriter, Bluegrass from The Bay, a guitjo, and its second sing-a-long concert, and first "Acoustic Christmas" performance.
The 2017-18 season opens Sept. 16 with Sally Barris and Rebecca Folsom sharing the stage at the Elks Theater.
Barris' song, "Let the Wind Chase You," recorded by Trisha Yearwood and Keith Urban, received a Grammy nomination for vocal collaboration in 2009.
Folsom's latest album, "Extraordinary Days," debuted with the song "Better Times" hitting No. 1 on the National Folk Radio DJ Chart and spent five months on the Top 50 National Americana Country Radio Chart.
You will likely recognize the singer and musician who appears at the Elks on Nov. 10 from a lengthy career in films. Ronny Cox says his "first love" is music, but made his name in the movies "Deliverance," "Beverly Hills Cop," "Total Recall," "Star Trek" and "RoboCop." He's been consistently active in the music world and Hollywood for more than 40 years.

The holiday season brings two unique shows to the Prescott Center for the Arts: a Thanksgiving Sing-a-Long Concert on Nov. 25, where the lyrics are provided, and an Acoustic Christmas Concert matinée on Dec. 16. This is the eighth year of the Folk Sessions partnership with Prescott Center for the Arts.
On Jan. 13, Folk Sessions' favorite Acoustic Eidolon kicks off 2018 at PCA. This internationally acclaimed duo of Joe Scott and Hannah Alkire is on its 12th album, "A Tree Finds its Voice," and features cello and guitjo -- a six-string banjo with the neck of a guitar (also called a banjitar).

Feb. 10 brings bluegrass to PCA, when Front Country returns to Prescott. This progressive quintet from the Bay Area brought the house down on its first visit here in June.
Then it's time to celebrate on March 22 with The Folk Sessions 15th Anniversary concert. Details have yet to be announced for this show.
For more information on any of these shows, call Tom D'Agostino at 928-830-0607.
More like this story
SUBMIT FEEDBACK
Click Below to: