Farm to Table event serves up freshest food
Everything served straight from Mortimer Farms

Originally Published: August 28, 2017 6 a.m.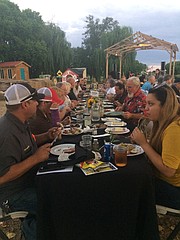 Folks at Mortimer Farms were treated to the taste of fresh food straight from the farm itself Saturday evening.
It was Farm to Table, an event that included wine tasting, the farm-fresh dinner experience and live music by Sky Daddy and the Pop Rocks that followed a business expo called "Business to Farm: A Local Experience." A brand new annual event for the community, it was made possible by the Prescott Chamber of Commerce partnering with Mortimer Farms and Yavapai Regional Medical Center.
Sheri Shaw said she saw Farm to Table advertised on Facebook and thought it would be a really neat event, stating she was really looking forward to the fresh farm food and enjoying the local wine. Sheri said she owns the Wild Daisy Clothing Company and is a member of the Prescott Downtown Partnership and husband Peter Shaw said the two of them are always fans of supporting local businesses.
At the same time, Brenda Martinez said she came for the wine tasting and was really interested in the Farm to Table event, remarking it sounded really fun.
"It sounds good," she said of the menu. "I wish there was a little bit more of this in town."
Diners were treated to a menu of vegetable medley hors d'oeuvres, baked pork chops with sweet corn relish, caprese zoodles with balsamic vinaigrette dressing, roasted garlic potato, strawberry delight and either tea or lemonade.
Everything on the menu was grown or raised at the farm, said Sharla Mortimer, commenting that they had been harvesting everything since Friday to get all the produce together.
"We're really excited to have harvested yesterday and this morning and going to hit the table this afternoon," Mortimer said. "I'm excited for everybody to see what we've done for them this evening. It'll be really awesome."
As dinner progressed, Sheri spoke highly of the food as she helped herself to one of the baked pork chops.

"It's so good, the food is amazing," she said, calling it a "very good experience."
More like this story
SUBMIT FEEDBACK
Click Below to: