David and Diane celebrate 50th wedding anniversary
Originally Published: August 27, 2017 5:56 a.m.
Updated as of Monday, August 28, 2017 6:15 AM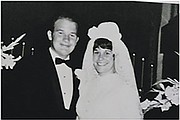 David C. and L. Diane Kelm of Prescott, Arizona, celebrated their 50th wedding anniversary on June 23, 2017. Dave and Diane were married at Wasatch Presbyterian Church in Salt Lake City, Utah. After serving his country, Dave and Diane set up their home in Salt Lake City where both of their sons, Karl A. and Robert G., were born.
More like this story
SUBMIT FEEDBACK
Click Below to: