Chino Valley wins season opener 21-14, keeps Bronze Boot
JAMES KELLEY, Special to the Courier
Originally Published: August 26, 2017 6:05 a.m.
CAMP VERDE — Chino Valley football held on to beat an upstart Camp Verde team and keep the Bronze Boot.
The Cougars defeated Camp Verde 21-14 in the season opener for both teams.
"It was a scrappy game," said Chino Valley head coach Wade Krug. "It was a really good, hard fought game on both sides of the ball. Camp Verde is a lot improved over the last year and they're going to be doing some good things."
The Cowboys had the ball at the Chino Valley 15 yard line on third and goal with 23 seconds left but the Cougars got a sack and Camp Verde didn't have time to get another play off.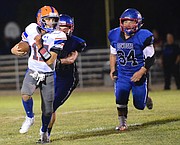 The Chino Valley coaching staff tried to call a time out before the walk off sack but it wasn't granted.
"We think that they misspotted the ball so we were yelling for time out but I'm glad they didn't because they ended up running the clock out," Krug said.
In 2015, Camp Verde won the Bronze Boot the first time it was awarded, 26-12. Last year, Chino Valley took it back with a 52-0 win at home.
Camp Verde head coach Jerome Rhoades, who has taken over the Cowboys' program since the blow out last year, said this close loss hurt more.
"Oh yeah, oh heck yeah," Rhoades said. "I mean we had every opportunity to in the world to win this football game and we just came up short. In the end, we couldn't execute, we couldn't block their big ends. Those two ends are men and we just couldn't find a way to slow them down when we needed to in the end."
Junior athlete Michael Paulus led the way for the Cougars. He scored three touchdowns, including one on a 94-yard run, he rushed for 164 yards on 17 carries. He passed for 90 yards as well.
"I thought I did pretty good but without the team I wouldn't be able to do what I did," Paulus said. "The line today was phenomenal, kicked some butt. We've been working with them in practice and they just did what they're supposed to do."
Krug was also impressed with sophomore Canyon Brimhall, who had five catches and 69 yards of offense.
"Michael had a great game and so did Canyon Brimhall," Krug said. "Canyon Brimhall was not a kid that I was expecting to have the game that he did, he just came out and he had a good game."
Camp Verde started off the game with a 45-yard touchdown run by junior Dominiq Bruno.
UP NEXT
Chino Valley's home opener is against Sedona Red Rock on Friday. Camp Verde travels to Scottsdale Christian on Friday.
Chino Valley senior captain Colton Sandberg said keeping the boot was very important.
"It's the biggest one Chino's had in a long time," Sandberg said. "I'm very happy to come away with that W."
James Kelley is a reporter for Verde Newspapers.
More like this story
SUBMIT FEEDBACK
Click Below to: