By
Doug Cook
|
dougout_dc
Originally Published: August 26, 2017 6:02 a.m.
Friday night at Bob Pavlich Field was billed as a "Blackout," one in which Bradshaw Mountain's football team hoped for an upset of traditional 4A power Cactus. Unfortunately for the Bears, the Cobras' Carolina and navy blue turned the tables.
In a season-opening 4A clash in Prescott Valley, speedy sophomore running back Anthony Flores rushed for 204 yards on eight carries and four touchdowns, leading Cactus to a 61-23 romp over a much-less-experienced Bradshaw Mountain squad.
Photo Gallery
BMHS vs Cactus Football 082517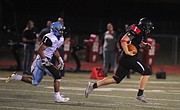 "It was a lot of these guys' first games out there, and I think they came out and they didn't know what to expect," Bears senior quarterback Timmy Young said of his team. "They felt like they were confident coming from JV, but it hit them and they adapted really fast. We showed determination."
In first-year coach Chuck Moller's inaugural game on the Bears sideline, Moller said his team started a little slowly, but that it was to be expected with an offense that graduated its starting QB and its starting backfield in the offseason.
"There were bright spots [for us], but not enough of them, and they're a good team [Cactus]," Moller said. "Their line was that much bigger than us. Anytime you're playing size, it does wear you down at times. I don't think our kids can't play with them. We just didn't have enough subs to keep them fresh."
Senior tailback Damaria Norris added 144 yards on 12 carries and scored two TDs for the visitors. Norris also led Cactus in receiving, hauling in five passes for 74 yards and a TD. This past fall, Norris ran for a whopping 2,209 yards on 280 carries and 28 TDs.
Cactus senior quarterback Mahal Lee ran for a 12-yard TD and threw an 18-yard TD pass Friday. He also completed 8 of 18 passes for 108 yards. Last season, Lee passed for 1,786 yards, 23 touchdowns and only three interceptions.
The Bears (0-1 overall) started Friday's game solidly on defense, forcing a fumble on Cactus' first play from scrimmage. But Bradshaw subsequently failed to score from the Cobras' 16-yard line, and later turned the ball over on downs. That sequence, in part, set the tone for the evening – too many missed opportunities and untimely mistakes for the Bears.
Cactus (1-0) led 7-0 at the end of the first quarter before blowing the game open in the second period, outscoring Bradshaw, 27-6, to run away with it, leading 34-6 at halftime.
"You kind of expect in an opening game [to not start so well]," Cobras coach Larry Fetkenhier said. "But we executed. And the good news is that we got a game in, we got film, we did some things well. Now we've got to figure out 'what do we need to do to get better.' "
The Bears' Young showed promise, completing 11 passes for 210 yards and two TD passes of 4 and 15 yards. He also had a 69-yard TD scamper. Bradshaw Mountain wide receiver Devon Olson stood out, too, making eight catches for 141 yards and two touchdowns.
Last fall in their season opener, the West Valley region Cobras blitzed the Grand Canyon region Bears, 70-49, in Glendale. Both teams went on to finish their seasons in the state playoffs, where Bradshaw lost in the first round and the Cobras succumbed in the quarterfinals.
"If we start out a little faster, and we didn't have a goose egg on the board in the first quarter and a half, the game would be a lot different right now," Young said afterward. "But it did happen that way, and we've just got to come back next week – and now we know. Now we know what to do, and what's happening. Next week we'll come out strong and ready to punch whoever we play in the mouth."
UP NEXT
The Bears will visit 4A Southwest region opponent Estrella Foothills at 7 p.m. Friday in Goodyear.
Cactus will play host to Marcos de Niza, a state quarterfinalist in 2016, at 7 p.m. Friday in Glendale, beginning a season-long three-game home stand.
Follow Doug Cook on Twitter @dougout_dc. Reach him at 928-445-3333 ext. 2039, or via email at dcook@prescottaz.com.
More like this story
SUBMIT FEEDBACK
Click Below to:
This Week's Circulars
To view money-saving ads...