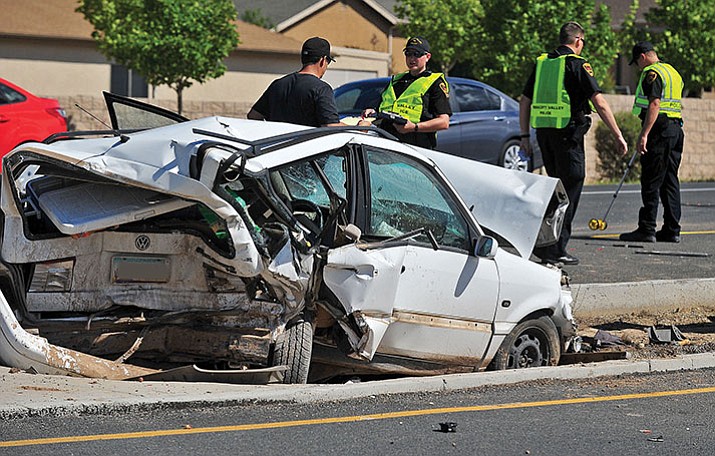 Originally Published: August 25, 2017 6:02 a.m.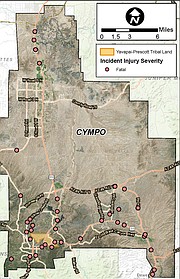 Fain Road, Highway 69, and Highway 89: They are among the region's busiest highways, and are also the most deadly.
Data from the quad-city area's transportation-planning organization shows that of the 44 fatal crashes that occurred in region over the past five years, more than 20 happened on stretches of the three major highways.
Still, other trouble areas exist as well. From rural to urban, and from highways to city streets, the fatal crashes were spread throughout much of the Central Yavapai Metropolitan Planning Organization's (CYMPO) boundary area, which takes in about 400 square miles.
In all, the organization's roadways averaged about nine crash-related deaths per year, according to information from CYMPO.
A new study aims to pinpoint the causes of the crashes, as well as ways to make the roadways safer.
A news release from CYMPO states that the organization and its design team at Burgess & Niple, Inc. are currently analyzing crash data to determine the primary crash causes, and identify potential projects and educational efforts that could reduce the number of crashes.
A map from CYMPO showing the locations of each of the 44 crash fatalities shows a number of areas where a cluster of accidents have occurred.
Among the most dangerous:
• Fain Road, from Robert Road to Highway 69 — five fatal crashes within 7.3 miles.
• Highways 69/89, from Prescott Lakes Parkway to Sheldon Street — four fatalities in 2.3 miles.
• Highway 89, from Bethany Lane (north of Chino Valley) to Sweet Valley Road — four fatal crashes in less than four miles.
• Willow Creek Road, from Iron Springs Road to Willow Creek Lane – three fatal crashes in about 2.4 miles.
• Highway 89, from Willow Lake Road to Highway 89A interchange — three fatalities in about 2.3 miles.
• Highway 69, between Robert Road and Fain Road — three fatal crashes in about four miles.
• Intersection of Highway 89A and Robert Road — three fatal crashes.
Bridges explained that some of the cluster areas involve corridors, while others involve intersections.
Also central to the ongoing study will be identifying potential trouble spots before fatalities occur. Through an online survey, CYMPO is seeking feedback from drivers, bicyclists, and pedestrians on possible dangers on the roads.
The survey — at www.surveymonkey.com/r/CYMPO — asks questions on issues such as impaired driving, distracted driving, not stopping at stop signs, and speeding. It also includes an option for adding other concerns, as well as an opportunity to place virtual pinpoints on a map to identify worrisome areas.
"We want the public to let us know what they have observed and experienced on the roadways and areas of concern," says CYMPO Administrator Chris Bridges. "This information is valuable because it alerts us to potential dangers that we may not be aware of before a fatal crash occurs."
For those who wish to communicate directly, the study team can be reached via email at CYMPOsafetyplan@gciaz.com or by mailing comments to: GCI, 67 E. Weldon, Suite 103, Phoenix, AZ 85012.
The survey is a part of the Northern Arizona Council of Governments' (NACOG) Strategic Highway Safety Plan, which is designed to understand current conditions, identify safety strategies and implement safety solutions.
Jason Kelly, NACOG's transportation planning manager, said the study would take in portions of Yavapai, Coconino, Apache, and Navajo counties. He expects the study to be complete by May 2018. Feedback gained from the survey will be taken into account in the final report, Kelly added.