Group spends $13,000 to oppose Wilcox
Two of three mayoral candidates had groups working to defeat them

By
Cindy Barks
|
Cindy_Barks
Originally Published: August 24, 2017 6:02 a.m.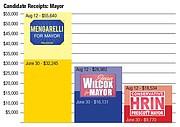 Two of Prescott's mayoral candidates have been targets of negative campaigning this year, according to financial disclosure reports that were filed with the Prescott City Clerk's office this past week.
The filings show that nearly $13,000 was spent to oppose Jean Wilcox, a mayoral candidate and current City Council member.
COMMITTEE SPENDING How much each committee has reported raising for this campaign:
Yes on Prop 443: $60,947
No on Prop 443: $8,313
No on Wilcox: $12,966
No on Hrin: $8,495
The Arizona Free Enterprise Club, which describes itself as a "free-market, pro-growth advocacy group dedicated to Arizona issues and politics," filed a political action committee report showing disbursements of $12,966 — all for efforts opposing Wilcox's candidacy.
The organization lists four separate independent expenditures: a July 24 expenditure of $1,700 to Chicago-based A2P for Internet advertising; a July 29 expenditure of $3,600 to Phoenix-based Summit Consulting for mailers; an Aug. 8 expenditure of $3,600 to Summit Consulting for mailers; and an Aug. 11 expenditure of $4,066 to Summit Consulting for radio advertising.
All of the expenditures list Wilcox under the "candidate opposed" category.
The Arizona Free Enterprise Club report was one of several political action committee (PAC) filings that the city received for the campaign-finance disclosure reporting period that ended on Aug. 12.
Also this past week, the Arizona Voter Education Project, Inc. filed an "independent expenditure" report with the city, listing three expenditures totaling $8,495, which targeted another mayoral candidate, Mary Beth Hrin.
The more than $21,000 of money for negative campaigning is in addition to the $132,825 that individual candidates collected to fund their own campaigns.
It also is in addition to the $69,260 that has been collected for the campaigns for and against Proposition 443, the city's ballot measure asking for a 0.75-percent sales tax increase intended to pay down Prescott's more than $78 million in debt with the Public Safety Personnel Retirement System (PSPRS).
The bulk of that money was raised by the "Stand for Prescott – Yes on 443" effort, which had raised $60,947 by Aug. 12.
Stand for Prescott's report lists 11 individual contributions, the largest of which were: $4,000 from real estate developer Jim Neal Lee, and $1,500 from Prescott City Councilman Steve Sischka. The report also lists $2,500 from the Prescott Area Association of Realtors, and $2,000 from SWG Builders LLC.
"No on Prop 443" lists receipts of $8,313, with three individual contributions, the largest of which were $500 from retiree and former City Councilman Chris Kuknyo, and $225 from retiree Bob White.
More like this story
SUBMIT FEEDBACK
Click Below to:
This Week's Circulars
To view money-saving ads...