Fall Preview: Revitalized Cougars program eyes state playoffs in 2017
Coach: 'The program has slowly built a strong foundation over the past couple of years'

Originally Published: August 24, 2017 11:15 p.m.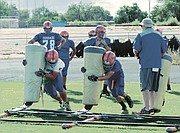 Three years ago this month, Wade Krug walked onto the practice field at Chino Valley for his first training camp as the new head football coach of the Cougars.
Filled with all the optimism and fire a coach could muster, Krug did all he could to keep the program from falling apart, finishing winless at 0-10.
That was 2014.
Since then, Krug has revitalized a Cougar football program that hasn't had a winning season since 2010.
Chino Valley finished 4-6 in 2015 under Krug's tutelage, than last fall, his group wrapped up 2016 with a .500 record at 5-5, becoming one of the more respectable opponents for any team to face in the 3A conference. And how has he accomplished this feat? Krug said it's all about establishing a "foundation."
"The program has slowly built a strong foundation over the past couple of years," Krug said. "The coaching staff is constantly asking the players to work hard and get better every day, week, month and year."
Krug added his staff's "high standard" for players to live up to is not easy, but it's made the program competitive again.
"Are we a playoff team? That is still to be answered," Krug said. Making the playoffs will depend on how well the Cougars make it through this season's schedule.
At least three games stand out, starting with a road trip to River Valley on Sept. 29. Chino Valley plays Wickenburg on Oct. 13 and the following week, they are in Phoenix to play Northwest Christian.
All three opponents made the state playoffs last season, and all are expected to be tough once again in 2017.
"Those [games] are going to be our measuring stick to see how far we have progressed over the past few years," Krug said. "We want to be consistently better year after year, and become a program that is competitive … and in the playoff hunt."
Junior Michael Paulus will certainly help the Cougars accomplish that goal, but Krug was uneasy naming him the starting quarterback.
"He is going to see a lot of time at quarterback, but if we need to move him to make us a more explosive team, we will do that," Krug said.
Paulus was the second-leading rusher for the Cougars last season, amassing 606 yards on 83 carries and eight touchdowns. He was 6 of 15 for 149 yards passing in limited action at quarterback.
"As a quarterback, he has an extremely strong and accurate arm … but his biggest threat is his ability to make plays with his feet, and that is where he is going to be counted on to be the playmaker," Krug said.
Krug pointed towards his club's depth at the skill positions, including tight end Colton Sandberg, wide receiver Brenden Gregory, senior wideout T.J. Murphy and sophomore running back Trevor Gianfrancesco, to name a few.
Top newcomers that have impressed Krug's coaching staff include offensive lineman Nicholas Larriba, defensive lineman Charlton Cornelius and kicker Matt Rios.
UP NEXT
Chino Valley (0-0, 0-0 3A West) opens the 2017 season with a road trip to Camp Verde tonight. The rival Cowboys finished 4-6 last season, but won three of their last four games.
Kickoff is set for 7 p.m.
Brian M. Bergner Jr. is associate sports editor and a columnist for The Daily Courier. Follow him on Twitter, Instagram and SoundCloud at @SportsWriter52, or on Facebook at @SportsAboveTheFold. Reach him at bbergner@prescottaz.com or 928-445-3333, ext. 1106.
SUBMIT FEEDBACK
Click Below to:
More like this story