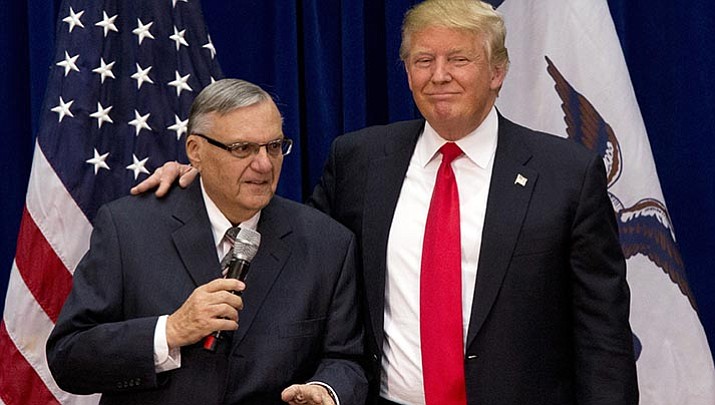 Photo by Associated Press.
Originally Published: August 23, 2017 6 a.m.
PHOENIX (AP) — President Donald Trump on Tuesday again signaled his willingness to pardon former Sheriff Joe Arpaio's conviction for intentionally disobeying a judge's order in an immigration case. But he told a downtown rally of supporters that he wouldn't do it quite yet.
"So was Sheriff Joe was convicted for doing his job?" Trump asked. "I'll make a prediction. I think he's going to be just fine, OK"
The president said he "won't do it tonight" because he doesn't want to cause controversy.
Trump had said eight days ago that he was considering a pardon of Arpaio's misdemeanor contempt of court conviction for intentionally defying a judge's order to stop his traffic patrols that targeted immigrants.
Longtime critics of the retired sheriff say a pardon would remove the last chance at holding Arpaio legally accountable for a long history of misconduct during his 24 years as metro Phoenix's top law enforcer. They cited a racial profiling verdict against the sheriff's office, allegations that Arpaio retaliated against his political foes and other alleged misconduct.
Before the rally, a White House spokeswoman said a pardon wouldn't be issued Tuesday.
Arpaio said he wasn't disappointed.
"No, no," Arpaio said earlier in the day. "They just decided not to do it tonight. We'll have to see if and when it occurs in the future."
More like this story