Bonilla elected President of Arizona American Legion Auxiliary-District
Originally Published: August 23, 2017 6 a.m.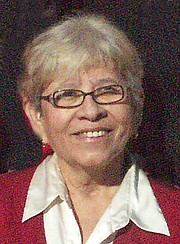 Yolanda Bonilla, a Chandler resident and 20-year member of the American Legion Auxiliary (ALA), was unanimously elected ALA Department President for the state of Arizona at the 2017 American Legion Auxiliary Convention held in Carefree, Ariz. Also elected was Cornville resident, Patty Eames, as the District 8 President. District 8 is comprised of units in Prescott, Cottonwood, Chino Valley, Humboldt, Yarnell, Camp Verde, Prescott Valley, Cornville and Crown King. The recently organized Crown King unit was recognized in a special ceremony at the Convention, receiving their official charter from outgoing Department President Jan Cushing.

"Over the next year, the American Legion Auxiliary will positively affect the lives of thousands of Arizona veterans, military, local families and their communities—and my goal is to make sure we can continue to do so in the years to come", said Bonilla. Accordingly, Bonilla has selected the American Legion Auxiliary's Girls State program as the Department President's Special Project during her year-long tenure as President.
Bonilla points out that like many volunteer programs, the ALA is struggling to maintain the level of volunteers needed to perform the critical work done by the organization. "By reaching out to youth, we believe we can simultaneously build a stronger America and a stronger patriotic organization" she said.

ALA Girls State is a week long program, conducted by American Legion Auxiliary volunteers, emphasizing the workings of government and responsible citizenship. Taking place at the University of Arizona in Tucson, nearly 300 Arizona high school girls participate in the program each year. Because it is a highly accredited learning experience, participants often receive college credits for attending. But Auxiliary units across the state are struggling to maintain their current level of support. "Even though the program is conducted by volunteers, the costs-- such as accommodations, food & supplies-- continue to rise", said Bonilla. Historically supported solely by the Auxiliary units in Arizona, the week long program costs well over $100,000 each year. Rather than cut participation in the program, the Department of Arizona Auxiliary is hoping to build a reserve fund to cover the increasing costs.
Over the next fiscal year, the organization plans to hold various fundraisers and reach out to local businesses across the state to raise the needed funds.
As a junior in high school, Bonilla had the privilege of attending the American Legion Auxiliary's Girls State Program. "It changed my life" said Bonilla, who still maintains friendships made in the program which she attended over 40 years ago. Like Bonilla, many former delegates return to serve as staff at ALA Girls State.
Bonilla is married to Army veteran Domingo Bonilla who was awarded both the Bronze and Silver star for his military service in Vietnam. Domingo Bonilla was elected as Arizona's Department Commander for the American Legion during the American Legion's 2017 convention also occurring in Carefree, Ariz.
Last year, Arizona ALA members volunteered over 175,000 hours of service to veterans and to the Veteran Health Care System in Phoenix, Prescott and Tucson. They hold annual "Christmas Shops" at these locations where hundreds of veterans shop, at no cost, for themselves and their loved ones.  The Arizona American Legion Auxiliary partners with the Arizona Veterans Administration to conduct a Veteran's Creative Arts Festival—a program designed to further rehabilitate both inpatients and outpatients through art. Arizona members donate clothing and personal care items to local veteran organizations such as Veterans Helping Veterans, Veterans First and Mary Ellen's Place. They attend and contribute truckloads of clothing and other goods to local Stand downs supporting veterans. This past year, the Arizona American Legion Family raised over $50,000 for Soldier's Best Friend an Arizona organization that pairs combat veterans with a specially trained companion dogs. These described efforts just skim the surface of the work being done across Arizona by the American Legion Family.
For more information about the American Legion Family efforts, ALA Girls State, District 8 events or how you can help, contact the Department of Arizona ALA Public Relations at ALAdeptAZpr@gmail.com or visit them at www.ALADeptAZ.org
More like this story
SUBMIT FEEDBACK
Click Below to: