$8,500 spent targeting candidate for mayor
Phoenix company discloses costs despite saying it didn't have to

By
Cindy Barks
|
Cindy_Barks
Originally Published: August 23, 2017 6:02 a.m.
Nearly $8,500 went toward flyers in opposition to Prescott mayoral candidate Mary Beth Hrin in July, according to information filed this past week with the Prescott City Clerk's office.
Questions still remain, however, about where the money came from, and to whom it was paid.
City records show that at 6:48 p.m. Saturday, Aug. 19, an attorney for the Arizona Voter Education Project, Inc., filed a campaign finance report on three disbursements — two on July 21, and one on July 28.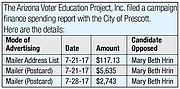 The report states that the Arizona Voter Education Project spent $5,635 on July 21, and identifies the "candidate opposed" as Hrin. The money went toward consulting fees for a mailer, the document adds. An expenditure for $117 was also paid that day for a "list charge." Then, on July 28, another disbursement of $2,743 was made — also for mailer consulting fees.
City officials say the report was filed within the Aug. 19 deadline for campaign finance reports required by state law for the July 1-to-Aug. 12 reporting period.
The campaign-finance report comes about two weeks after Hrin's attorneys filed a claim of election-finance violations with the city. The complaint alleged that the Arizona Voter Education Project failed to disclose required campaign-finance information regarding two flyers that had gone out to Prescott voters, making negative claims about Hrin.
With the Aug. 19 filing, City Attorney Jon Paladini said Tuesday, Aug. 22, that the Arizona Voter Education Project has satisfied the statutory requirement for campaign finance filing "to the letter."
Earlier this month, Paladini had noted that the Arizona Voter Education Project likely had until Aug. 19 to file the required campaign finance report, because the mailers against Hrin appeared to have gone out in the July 1-to-Aug. 12 reporting period.
Paladini added at the time that the organization would be required to file with the city as an Independent Expenditure Committee (IEC), and as such, would be required to file less-comprehensive information than are local candidates and political action committees.
Hrin's attorney, Sean Phelan, disagrees, maintaining this week: "Given that AVEP's (Arizona Voter Education Project) nonprofit status was revoked by the IRS at the time the expenditures were made, as well as the fact that AVEP was not in good standing with the Arizona Corporation Commission while these mailers were being distributed, there is a presumption that AVEP was a political action committee … requiring registration with the City of Prescott as well as more robust reporting."
But the Arizona Voter Education Project maintains in its Aug. 19 report that the disbursements do not even constitute "independent expenditures," because the mailers did not "expressly advocate the election or defeat of any candidate."
Kory Langhofer, the attorney who filed the report, said Tuesday, Aug. 22, that federal election authority holds that if mailers do not specifically advocate voting for, or against, a person, they do not fall under the "independent expenditures" requirements.
And he contends that it was clear that the mailers about Hrin did not specifically advocate on voting.
The Arizona Voter Education Project's report states that it filed with the city "only in the interest of caution and in so doing fully reserves and does not waive any claims, defenses or arguments in any regulatory or litigation proceeding."
At this point, Paladini said, "It's sort of a moot issue, because they filed what they were supposed to file." He added: "As far as I'm concerned, there is no more issue."
Still, Phelan says, "Mary Beth Hrin reiterates her request that the City of Prescott investigate AVEP as a political action committee."
Langhofer declined to comment on who received the consulting fees, as well as who contributed the money for the flyers. "That information is not required to be disclosed," he said.
Hrin's attorneys have claimed that the flyers were funded through "dark money" – the funds used to pay for campaign efforts that are not disclosed to voters. They say one of the goals of a recent defamation lawsuit filed in Yavapai County Superior Court is to determine the source of the money. (See related story).
More like this story
SUBMIT FEEDBACK
Click Below to: