JuCo Men's Soccer: Roughriders drop Chandler-Gilbert in opener
Perez Flores' 2 goals, assist lift Yavapai soccer
By
Doug Cook
|
dougout_dc
Originally Published: August 22, 2017 11:45 p.m.
Photo Gallery
YC vs Chandler Gilbert Soccer 082217
Since he was 5 years old growing up in McMinnville, Oregon, Yavapai College freshman attacker Jose Perez Flores has gone by the nickname "Pepsi."
In the Roughriders soccer team's 2017 season opener Tuesday night at Mountain Valley Park in Prescott Valley, Perez Flores lived up to the moniker with his offensive "pop," if you will.
Perez Flores scored two goals, including the go-ahead tally that snapped a 1-1 tie in the 65th minute, and added an assist, leading Yavapai to a 4-2 victory over Chandler-Gilbert Community College on a pleasant summer evening.
"It's just the energy that you give when you score a goal – it's not just me, it was the whole team that was involved in the play [on the go-ahead goal in the 65th minute]," the modest 5-foot-7, 165-pound Perez Flores said. "I was lucky. I was in the right place at the right time, and I got the goal."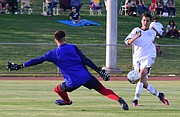 Yavapai (1-0, 1-0 ACCAC) led 1-0 at halftime via a goal from 12 yards out by sophomore attacker Carlo Quesada on an assist from Perez Flores in the 14th minute. The first half was a virtual stalemate, as the Coyotes packed the box and frustrated the Roughriders' offense.
However, things got interesting coming out of halftime. About 1:30 into the second half, Chandler-Gilbert wasted no time, as sophomore forward Carter Rumsey booted in a 5-yard shot off of a deflected ball in front of the Yavapai net for the equalizer.
"It caught us off-guard, honestly," Roughriders sophomore attacker John Scearce said of the Coyotes' equalizing goal. "But we got together and we decided it won't affect us, and to just keep playing our game because we had them on their backs. We just kept going and got three more goals."
Knotted at 1-1, Perez Flores shifted the momentum to No. 9-ranked Yavapai in the 65th minute when he received a well-placed crossing pass from freshman attacker William Baynham. From 25 yards out on the left wing, "Pepsi" fired a spectacular diagonal shot that landed top shelf into the right side of the goal.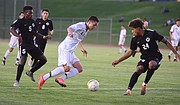 "I saw Will, my teammate, on the right-hand side of the pitch," Perez Flores said. "And he noticed it was a two versus one situation, so if he over hit it… lucky enough it fell into me. I hit that with my left [foot] across to the keeper's left and it went top right."
"Honestly, I didn't think he [Perez Flores] was going to hit that ball. It looked like he was going to bring it down and pass it back to me or send it in the middle. But he just ripped it the first time around," Quesada said. "That got us back in the game. And then, just like that, games can switch in a matter of seconds."
Yavapai coach Mike Pantalione said Perez Flores' go-ahead goal relaxed his team and allowed the Roughriders to finish the match the way they wanted.
"We were under a barrage the first 15 to 20 minutes," Chandler-Gilbert coach Richard Esperti added. "But we got our legs, we got organized. We made a couple of adjustments at halftime and got the early goal. It was even for a while, and then that was a world-class goal [from Perez Flores]. He just tattooed that."
Attacker Alexander Guadron extended Yavapai's lead to 4-1 with a goal on a 15-yard crossing shot in the 84th minute. With the clock winding down inside of four minutes to go, Chandler-Gilbert's Alberto Vidana's 20-yard crossing liner bounced off the right post and past Yavapai keeper Spencer Coffin, who had no play on the ball to cut it to 4-2. But the Roughriders and their defense would hold on for the victory, as a nice crowd sitting on the lawn north of the field cheered.
HOME MATCHES
The Roughriders' 6 p.m. home matches scheduled for Sept. 5 versus currently 17th-ranked Phoenix College, Sept. 9 vs. Snow College (Utah) and Sept. 12 vs. Gateway Community College will be moved from Ken Lindley Field in Prescott to Mountain Valley Park in Prescott Valley, Yavapai College athletic director Brad Clifford said Tuesday morning.
Lindley Field has been drenched by "the significant amount of water from the monsoons" this summer, Clifford said. The rains have damaged the playing surface and the "City of Prescott Grounds Crew is working hard to recuperate the field," which "has rot in the grass," he added.
UP NEXT
Yavapai will conclude its current three-match home stand when the Roughriders battle non-conference opponent Salt Lake Community College (Utah) on Thursday and ACCAC foe Glendale Community College on Saturday. Both matches begin at 6 p.m. in Prescott Valley.
Follow Doug Cook on Twitter @dougout_dc. Reach him at 928-445-3333 ext. 2039, or via email at dcook@prescottaz.com.
More like this story
SUBMIT FEEDBACK
Click Below to: