City has $123M? Yes, but most is already spent
Should Prescott use its cash on hand for pension debt?

By
Cindy Barks
|
Cindy_Barks
Originally Published: August 20, 2017 6:02 a.m.
Editor's note: This story was corrected at 6:40 p.m., Sunday, Aug. 20. An explanation is at the end.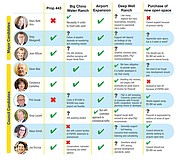 For some voters, word this past week that the City of Prescott has a fund balance of $123.5 million begged a question: Why is a sales-tax increase needed if the city has so much money on hand?
Coming just weeks before the Aug. 29 vote on a 0.75-percent sales tax increase that would be dedicated to paying down Prescott's more than $78 million in pension debt, the question appeared to cast doubt on the need for Proposition 443.
But city financial experts say the question overlooks a number of crucial points.
For instance, much of the money is needed for the city's day-to-day operations.
Budget and Finance Director Mark Woodfill explained that the $123.5 million total dates back to a twice-yearly investment report he sent to City Council members on Aug. 1, which stated: "At the end of June 2017, the city's cash and investments of $123.5 million were in three primary categories …"
On Friday, Aug. 11, Woodfill stressed that the fund balance fluctuates as it meets the city's myriad financial obligations.
"We've had 2,500 invoices since June 30," Woodfill said Aug. 11. "As of this morning, we have $114 million. That's significant – just like your own personal account, it varies day to day."
Also similar to personal finances, the fund balance includes rainy-day money, as well as funds that have been set aside for coming major expenses.
Much of the remaining total was raised through either a dedicated street sales tax or utility-rate fees, with specific purposes in mind (street improvements, water system upgrades, wastewater treatment centralization).
Woodfill and City Manager Michael Lamar say a portion of the money is restricted and could not be borrowed to help pay down the PSPRS debt.
They point specifically to the $19.5 million in the streets fund, which is made up of a combination of money generated through a voter-approved, 1-percent sales tax and the city's share of Highway User Revenue Funds (HURF) from the state.
Neither could legally be used for another purpose, they say. In addition, nearly $15 million of the total has already been budgeted for projects in the current fiscal year.
Money in the water and sewer funds likely could legally be borrowed for other uses, but officials say that may come with political and financial consequences.
Noting that the money was raised through water-and-sewer-rate increases, Woodfill and Lamar pointed out that rate-payers could raise a question on the need for the increases, should the city use the money for other purposes.
Woodfill also stressed that any money borrowed would have to be repaid. And without additional sales tax, he said the city would not have a dedicated revenue source to repay the loan.
Borrowing option
Still, others in the community – including Mayor Harry Oberg – maintain that inter-departmental borrowing could be a viable option, with proper planning.
Oberg released a statement Friday, Aug. 18, that offers another view of the city's cash on hand.
"There is a misconception that temporary borrowing from the city's enterprise fund reserves to reduce Prescott's PSPRS unfunded liability is illegal. This is not the case," Oberg said in his statement.
He added that money from the city's enterprise funds (water, sewer, solid waste) could be borrowed to pay down the city's public safety pension (PSPRS) liability. With "careful planning," he said, the city could borrow from and then reimburse the enterprise funds.
"Timing of the necessary capital projects for the near future must be taken into consideration when determining the amount to borrow from the enterprise reserves," Oberg added.
While Oberg said he continues to be opposed to Proposition 443 – "We need the revenue," he said Friday – he noted that the borrowing concept is being reviewed as a "Plan B" to the sales tax increase.
In fact, the inter-departmental borrowing idea is not a new concept.
Records show that the City Council considered the option at least three times in recent months – on Jan. 31, Feb. 7, and Feb. 14, 2017.
At those meetings, city staffers reviewed the various fund balances, and presented the borrowing option. Council members ultimately decided against inter-departmental borrowing – in part because the money would have to be paid back, and the loans could delay needed utility projects.
"It's all here, and the fund balances have all been articulated," Lamar said of the past discussions. "The reserves have all been discussed."
Oberg says the earlier discussions focused on a relatively small inter-departmental loan of about $20 million, and council members decided that "it wouldn't make a big difference."
He suggests a larger loan of as much as $50 million, which he said would significantly bring down the city's PSPRS unfunded liability, as well as the debt's interest costs.
Individual fund balances
A breakdown of the $123.5 million total on June 30 shows that the largest balance was in the water fund, with about $42 million; while the streets fund held $19.5 million; the wastewater fund had a balance of about $13.5 million; and the solid waste fund had about $4.5 million.
The general fund, which is made up of operations, long-term obligations, internal loans, and capital projects, had a balance of $32.6 million, of which $16.6 million was "unassigned."
It is that unassigned money that is actually available for paying down the pension debt, according to an Aug. 14 news release from the city.
It points out that the City Council has already dedicated as much as $12 million of that toward the PSPRS debt, if the 0.75-Proposition 443 passes.
The news release adds that the city has considered "the financial pros and cons of internal and external borrowing," and added, "These considerations will continue in the future."
Prescott Mayor Harry Oberg opposes Prop. 443. The original version of this story was incorrect.
More like this story
SUBMIT FEEDBACK
Click Below to:
This Week's Circulars
To view money-saving ads...