Secret compartment of motorhome hides 40 pounds of pot
Originally Published: August 18, 2017 12:57 p.m.
Updated as of Saturday, August 19, 2017 5:45 AM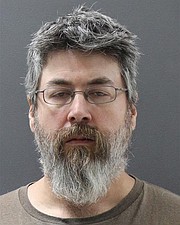 A Yavapai County Sheriff's deputy found 40 pounds of marijuana sealed in bags in a motorhome he stopped on Interstate 40 on Tuesday, Aug. 15, and arrested the driver, said Dwight D'Evelyn, YCSO spokesman.
About 8 a.m., the deputy stopped the motorhome for an equipment violation as it was headed east near Ash Fork.
As the deputy talked with the driver, Isaac Brown, 45, of Florida, "Brown was noticeably more nervous than the average driver and shared conflicting information regarding his travel itinerary," D'Evelyn said. "Based on the K9 deputy's training and experience, he determined the likelihood Brown's vehicle contained contraband and requested consent to search. Brown permitted the search."
Inside, the deputy first found a soft drink "Hide-a-Can" that smelled like marijuana, and then, when the deputy lifted the mattress off the bed, he detected an odor of marijuana. He continued searching and discovered a storage area with a false bottom. With the false cover removed, the deputy saw food saver bags containing marijuana determined to weigh 40 pounds.
Brown, who owns the motorhome, denied knowledge of the marijuana, D'Evelyn said.
Brown was arrested on charges including transportation of marijuana for sale, possession of marijuana for sale, and possession of marijuana and drug paraphernalia. He was booked at the Camp Verde jail, where he remains in custody on a $40,000 bond.
More like this story
SUBMIT FEEDBACK
Click Below to:
This Week's Circulars
To view money-saving ads...