Tickets going fast for Sharlot's Wine Fest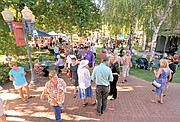 A catered wine-tasting event at Sharlot Hall Museum includes three musical groups and food pairings from local restaurants, each personally selected and coordinated by restaurateur Barry Barbe of El Gato Azul.
The Fifth Annual Sharlot's Wine Fest takes place with a first pour occurring at 4 p.m. on Saturday, Aug. 19, on the museum campus. Tickets are limited to 350 participants for $55 each or two for $100. All proceeds go to the museum, probably earmarked for the future education center, said Ken Leja, media and marketing manager.
The event has sold out every year. In 2015, the event grew to 420 ticket sales, but that made for too many people all at one time, Leja said. In 2016, event coordinators shaved that to 300 tickets, which sold out in a week.
"We had plenty of room for 300, so we bumped it up for a happy medium between the two extremes. There is plenty of room and plenty of opportunity to enjoy the wine tastings, craft brews and spirits, as well as taste samplings from the restaurants," he said.
Just looking at the offerings will put on 10 pounds, Leja said with a laugh. They include:
• BBQ brisket from The Raven paired with a zinfandel and merlot.
• From El Gato Azul, sundried queso, grilled cheese and tomato soup bruschetta, green cabbage and jicama in spicy chili cilantro dressing with marinated seafood, paired with Sauvignon Blanc and vintage Bordeaux from France.
• Barley Hound is offering organic Irish salmon served on lavosh with a horseradish crema, peppers and onions, paired with an Austrian Veltliner and a rośe from Argentina.
• Smoked duck from BiGA is paired with Italian Moscato and a pinot noir from Willamette Valley, Oregon.
• Goods from the Garden will provide chicken and brown rice meatballs paired with a Cabernet Sauvignon and an Italian Tuscany Chianti.
• Park Plaza Liquor and Deli offers green chili street tacos and carne asada with Portuguese Confidencial Reserve and a Spanish La Mancha.
If wine is not your thing, craft brews and distilled spirits are provided as well, thanks to Prescott Brewing Company, Thumb Butte Distillery, Desert Diamond Distillery, and Superstition Meadery.
"The whole idea is that this is not just a tasting, it's a true gourmet feast," Leja said. "Barry Barbe has done a fabulous job. I look at the samplings of food and compare them to wines, and this is going to be phenomenal. We've got something for almost everybody."
Three stations with musical entertainment allow plenty of room to mingle and stroll the 4-acre museum grounds. "Manzanita Road" performs in the gazebo surrounded by tables and chairs. At the amphitheater is the Dave Russell Combo. Eric Ramsey is stationed at the Fremont House front porch.
For tickets, call 928-445-3122, ext. 10. Three entrances will be open to the museum, located at 415 W. Gurley St., Prescott.
More like this story
SUBMIT FEEDBACK
Click Below to: