PCA hosts 2nd annual 24-Hour Play Festival

By
Max Efrein
|
mefrein
Originally Published: August 17, 2017 8:55 p.m.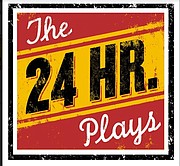 Essentials:
What: 2nd annual 24-Hour Play Festival
Where: Prescott Center for the Arts' Mainstage, 208 N. Marina St.
When: Saturday, Aug. 19, at 7:30 p.m.
Admission: $12
Contact: 928-445-3286
Online: pca-az.net
Six 10-minute plays will be cast, written, rehearsed, and performed in only one day's time for the second annual 24-Hour Play Festival set for Aug. 19 at the Prescott Center for the Arts (PCA).
For those looking to view the performances, they begin at 7:30 p.m. at the PCA's Mainstage, 208 North Marina Street. Tickets are $12 and can be purchased by calling 928-445-3286, emailing tickets@pca-az.net or going online to pca-az.net.
The festival is a fun way for local playwrights, directors and actors to test their chops, said Paul Epoch, coordinator of the 24-Hour Play Festival Committee.
"Our six-plays-in-a-day concept is modeled after the 24-Hour Plays idea that originated back East," Epoch said. "It's a theater challenge that tests the skills, creativity, and stamina of the playwrights, directors, casts and crew members as they try to beat the clock to bring these original short plays all the way from brain to page to stage in just 24 hours. It's a treat for the audience to experience the results of such high-energy theatre."
Actors will first showcase their skills in front of six teams of playwrights and directors, said Karen Muphy, one of the event's committee members. The teams will then take turns selecting which actors they wish to include in their plays.
Once the actors are assigned, they and the directors go home and the playwrights start to write their plays, which are due by 6 a.m.
"Some get finished before, some go right up to 6," Murphy said.
Once finished, the playwrights go home to catch some well-deserved sleep and the directors return to handle the rest of the planning before the show that evening.
Open auditions are Friday, Aug. 18, at 7 p.m. on the PCA Mainstage, 208 N. Marina St.
No experience is required to try out.
"We've had some new people just come in off the street," Murphy said. "It's just if you feel comfortable on stage and can come in and show us your stuff."
Those auditioning are asked to bring a prop of their choice and perform a 2-minute scene they've developed that showcases the prop and their stage talents. Selected actors will need to report back promptly at 8 a.m. the following Saturday morning to get their scripts hot off the press and begin the read through, followed by the day-long rehearsals.
More like this story
SUBMIT FEEDBACK
Click Below to:
This Week's Circulars
To view money-saving ads...