Fall Preview: Yavapai volleyball seeks 3rd straight postseason appearance
By
Doug Cook
|
dougout_dc
Originally Published: August 17, 2017 11:30 p.m.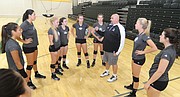 Over the past two seasons, Yavapai College's volleyball program has witnessed a resurgence.
Under fifth-year coach Zach Shaver in 2015 and 2016, the Roughriders made back-to-back postseason appearances. Two years ago, Yavapai finished with a 22-8 overall record and captured the program's first-ever Region I/District C championship. That title earned YC another program first – an inaugural showing in the 16-team NJCAA Division I National Championship Tournament in Casper, Wyoming.
Last fall the Roughriders carried the No. 2 seed into the District B playoffs, losing 3-2 in the semifinals to conference foe Eastern Arizona – an opponent that they had beaten three times in the regular season. Nevertheless, Yavapai ended the 2016 season with an 18-11 overall record and an 11-5 mark in league play.
The Roughriders open their 2017 season at 3 p.m. Aug. 25 against NJCAA Division I preseason No. 8-ranked College of Southern Idaho at the Coyote Classic tournament in Las Vegas.
"We have standards now – we have expectations," Shaver said of his program from practice last week. "And, frankly, if we're not in the playoffs, that's below expectations. Our goals are still [winning the] district championship and making it to nationals as one of the Top 16 teams playing the last weekend of the season. It's definitely not going to be easy, but it's definitely realistic."
The unranked Roughriders return eight letter winners from their 2016 team. Six of those ladies either started or received significant playing time. A half dozen other players join the 2017 unit's 14-member squad.
Despite two All-ACCAC first teamers graduating in outside hitter Iva Alebic and setter Jordan Tilley, Yavapai brings back ACCAC honorable mention right-side hitter Kaytlin Yost. The 6-foot-2 Yost compiled 314 kills in 29 matches, second only to Alebic's 352, to go along with 212 digs, 90 blocks and 410 points.
Yost is joined by middle blocker Bailey Anderson (5-11), the former Prescott High School star who tallied 169 kills with a .279 hitting percentage and 70 blocks in her freshman season.
Other returnees to keep an eye on include 5-8 outside hitter Jailynn Butler, 6-0 middle blocker Baylie Stephens, libero Hannah Semon (team-best 572 digs), right-side hitter/middle blocker Madelynne McKeown and libero/outside hitter Lauren Ulibarri. Six freshmen are on the Roughriders' roster. They include libero Victoria McCarty of Phoenix, outside hitter Nynke deVries (5-10) of the Netherlands, setter Kanani Hiapo of Gilbert, middle blocker Makenna Busse (5-11) of Susanville, California, setter Raymi Hernandez of Flagstaff and outside hitter Emma Moody (5-8) of Payson.
"I really like the girls so far, and our incoming freshman setter [Hiapo] is very dedicated," Yost said. "That's what I really like about a lot of the freshmen – they're really dedicated and willing to put in all this work, and willing to push us to get us to where we want to go."
Shaver's starting group should feature Hiapo, whom the coach believes will fill Tilley's starting shoes well; DeVries, who will take over Alebic's spot; and Stephens, Anderson and Yost. Semon, Ulibarri and McCarty are competing for the libero job. Yost is battling McKeown to retain her starting position, Shaver said, but he would like to "find a way to get them both on the court."
"We're definitely playing a similar style [as last fall]," Shaver said. "Probably the biggest difference is that we just have more game experience in the gym right now than we did this day last year. I wouldn't say we're deep, but the battles are closer than usual."
In the ACCAC, Shaver said either Arizona Western or Eastern will provide the stiffest competition for Yavapai. To prepare for their league slate, the Roughriders play in three tough tournaments, including the aforementioned Coyote Classic (Aug. 25, 26), the Roughrider Invitational (Sept. 1 and 2 in Prescott) and the Star Invitational (Sept. 8 and 9 in Twin Falls, Idaho). Yavapai initially received a spot at the Star Invite, which includes NJCAA D-I nationally-ranked teams, when it qualified for nationals in 2015. The Roughriders should be ready.
"This year, from where we are now to where we were last year, we are so much better already," Anderson said. "Some of the drills that we have been doing have been cleaner, and we've gotten them done a lot faster. We're just more under control and more efficient than last year."
In the spring, the Roughriders played host to four-year programs Northern Arizona University and Grand Canyon University to gauge their competitiveness. They held their own, and that experience has set the tone.
"We're always going to challenge ourselves," Shaver said. "Luckily, because we've improved as a program, our home tournament's improved in the quality of teams coming in, too. One of our other goals is to beat a Top 20 [NJCAA D-I] team this year. We're going to have a chance at that in the first couple weekends of the season."
Follow Doug Cook on Twitter @dougout_dc. Reach him at 928-445-3333 ext. 2039, or via email at dcook@prescottaz.com.
More like this story
SUBMIT FEEDBACK
Click Below to: