Fall Preview: Eagles enter 2017 season with something to prove
Embry-Riddle aims for Cal-Pac title, national tournament appearance

Originally Published: August 17, 2017 11:45 p.m.
https://soundcloud.com/sportswriter52/head-coach-todd-poitras-erau-womens-soccer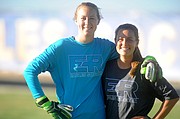 The Embry-Riddle women's soccer team enters the upcoming 2017 campaign with something to prove. At least that's how returning players look at it.
Posting a program-best 13-3-2 (7-1 Cal-Pac) overall mark last fall, Embry-Riddle opened the Cal-Pac Conference Tournament with a No. 1 seed, but failed to take advantage, losing 2-0 to a No. 4-seeded Marymount group they outshot 18-8.
The loss ended a school record eight-match winning streak, and all hopes of a national tournament appearance.
Returning players like senior goalkeeper Emily Lambert are determined not to allow that to happen again.
"This season, I think we have a lot to prove from last year. We did a lot last year, but now we can grow from that," Lambert said.
Embry-Riddle begins the 2017 season ranked No. 19 nationally in the NAIA Women's Soccer Coaches Preseason Top 25 Poll released Thursday morning.
But after losing 2016 Cal-Pac Conference Player of the Year Estelle Fortes to graduation in May, can the Eagles repeat their past success, or go beyond it?
Lambert is convinced it can be done, even with seven new freshman entering the mix.
"Team chemistry wise, our freshman are wonderful … they are only going to make us better," Lambert said. "Coach has done a good job of recruiting and bringing in stronger and stronger classes."
A few of those incoming freshman include forward Riley Martinson, midfielder Peighton Gumm, freshman defenders Mackenzie Campbell and Graziana Temsah, and backup goalkeeper Mackenzie Osther.
Krista Lee, a junior returning forward for the Eagles, believes her team struggled with their team approach last season, sometimes focusing more on individual play.
"People thinking they needed to take over. Individual talent can win games, but this year, we've gelled as a forward three and can move forward together. … We all work together well," Lee said.
And that's exactly what 10th-year head coach Todd Poitras is aiming for.
"The depth that we have of talented players, their character, the quality people and athletes we have, they've continued to grow and grow," Poitras said, adding the current Eagles owe a lot of respect to the first group of players that came through the Embry-Riddle halls a decade ago.
"[They] set a foundation. … The last few classes that have come in here, they've picked up the level of expectations," Poitras said.
Other returners include junior defender Adriana Jackson, sophomore forward Jennifer Ruth, midfielder Kelly Casper and sophomore defender Maddy Mak.
"We've worked a lot, not so much being on the field, but we had some trials and tribulations, but a lot of those things make you stronger," Poitras said. "We are a stronger as a team, stronger as a unit I think. These ladies are more unified and a little more focused than we have been in the past."
UP NEXT
Embry-Riddle (0-0, 0-0 Cal-Pac) opens the 2017 season with two-straight home matches, the first coming Saturday against Viterbo University out of Wisconsin. The Eagles will host The College of Idaho on Thursday, Aug. 24.
Both matches are set for 7 p.m.
Brian M. Bergner Jr. is associate sports editor and a columnist for The Daily Courier. Follow him on Twitter, Instagram, Periscope and SoundCloud at @SportsWriter52, or on Facebook at @SportsAboveTheFold. Reach him at bbergner@prescottaz.com or 928-445-3333, ext. 1106.
More like this story
SUBMIT FEEDBACK
Click Below to: