A muddy good time: Prep for annual Chino Mudder on schedule
By
Doug Cook
|
dougout_dc
Originally Published: August 16, 2017 6:05 a.m.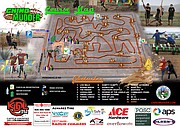 Prepare to get dirty — literally.
The annual Chino Mudder footrace returns to Chino Valley at 8 a.m. Saturday, Aug. 26, with a bigger and better course for competitors of all abilities who love the slop-and-roll.
Children as young as 5 to 12 years old, provided they are accompanied by a parent, may run the wet-and-muddy 3.1-mile (5K) obstacle course on the northeast corner of Perkinsville Road and Old Home Manor Drive. Teens ages 13 and older can run alone with signed parent permission. A total of 150-200 people are expected to participate this year.
Twenty-one man-made and natural obstacles greet competitors, requiring them to pass either through, over or under impediments, such as jump walls, cargo nets and mud pits, on a twisting, turning course. Chino Valley Finance Committee member Eric Smith told the Review in June that there are two new obstacles and that several existing ones were modified from last year.
"We've done some improvements on some of our obstacles, including making the pits bigger — made them a little bit better in regards to structure," said Chino Valley Recreation Lead Celia van der Molen, a primary race organizer.

On average, a participant needs at least 45 minutes, depending on athletic ability, to complete the race before showering off near the finish line. Spectators are encouraged to sit in bleachers or stand south of the starting line on the southwest corner of Perkinsville and Old Home Manor.
"There's lots of areas where you can go and watch, and we kind of had people all around the course last year," van der Molen said. "So, as long as they're not destructive and going through the race itself, then you can pretty much find areas to go take pictures of the people that are running through the race."
The Town of Chino Valley and its Parks and Recreation Advisory Board put on the event with sponsors' help. This year, 13 sponsors have contributed money, which goes toward the town's recreation programs, parks, library and trails.
"We'd love to be able to improve the obstacles every year, and the more sponsorships we can get, we can buy the materials to do that," said van der Molen, adding that some sponsors designed and built obstacles in 2016.
So, exactly what goes into prepping the course and its environs for these hearty souls?
The Board has installed a larger pipe and pump under the course to funnel water onto the obstacles and maintain muddy conditions.
Van der Molen said her crew has weeded, mowed and regraded the course, repaired PVC pipe, reshaped berms, tightened cables for the ropes that competitors swing on, and dug deeper ditches. Safety checks are also performed, as walls, footholds, hanging ropes and tires, among other features, are incorporated into the obstacles.
Organizers from the Board got cute with the obstacles' names, too. They include such creative monikers as Spring Break, Juggalows, Humpty Dumpty, Tightrope Shuffle, Road Kill and Bazooka.
Competitors are encouraged to rollick in the fun. In an ode to festiveness, individuals or teams may dress in costumes with some conditions (visit chinomudder.com for details). The top three costumes earn ribbons from judges.
The Chino Mudder has nine waves of competitors. They include the Competitive Wave (8 a.m.), First Open Wave (8:30 a.m.), Family Wave (9 a.m.), Second Open Wave (9:30 a.m.), Third Open Wave (10 a.m.), another Family Wave (10:30 a.m.), Costume Wave (11 a.m.), Police and Firefighter Competition Wave (11:30 a.m.) and the Fourth and Final Open Wave (noon).
The winning police or firefighter team from its wave will receive a traveling trophy for bragging rights to keep for the next year, van der Molen said. The victorious team will also get $100 to donate to a charity of its choice.
A food truck from Cee Cee's and beverages (no alcohol) will be available for spectators and for runners after they race. An MC will play music and announce race times and finishers for the Competitive Wave on a speaker system in the spectator area.
Next year's mudder should be even better, van der Molen said, complete with an "After-Mudder Party." Board members hope that by having moved the race from May to late August this year, participants won't have to contend with as much cold and wet weather.
"It's a really great course -- we got a lot of great feedback on it last year," van der Molen said. "It's great for the competitive types because it is an endurance course and it has some tough obstacles in there.
"But it's also great for families as well. We had some young kids run it last year and parents had them on their shoulders, and running through it at their own pace. It was just a lot of fun."
For more information on the Mudder, call van der Molen at 928-636-9780 or email her at: cvandermolen@chinoaz.net. To register, visit: active.com/chino-valley-az/running/mud-runs-races/chino-mudder-2017. Registration costs per individual and/or team are listed there as well.
SUBMIT FEEDBACK
Click Below to: