Linda Khachatoorian, Special to the Courier
Originally Published: August 16, 2017 6:02 a.m.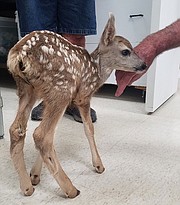 An animal sanctuary in Valentine, Arizona has received a mule deer fawn recently confiscated by the Arizona Game and Fish Department.
Wildlife officials said the fawn was essentially "kidnapped" from its mother and taken to a local bar to be shown-off.
Fortunately, the baby deer had the opportunity to receive the "first milk" (colostrum) which provides essential nutrients and antibodies to newborn animals. When deer fawns are bottle-fed by humans they cannot be returned to the wild. Experienced staff members are taking turns feeding the fawn every three to four hours.
The fawn's new home, Keepers of the Wild, educates park visitors – national and international – about native species; their conservation issues, natural habitats, living with wildlife, their diets, behavior and unique adaptations.
"We are pleased to accept the responsibility of caring for this young orphan," said Jonathan Kraft, Founder and Executive Director of Keepers. "For many years the Arizona Game and Fish Department has trusted us to care for our native species animals. We just wish that people would leave the baby animals where they belong! If you truly care – please leave them there."
Mule deer does will often seek seclusion from other deer just before giving birth. They will leave their fawns for brief periods of time, or watch them from a short distance away. Fawns are born without "scent" to help protect them from predators. The seclusion protects the fawns from contracting disease and allows them the time to grow without expending energy and precious nutrients which contribute to their early growth and development.
"The first one to two months of life are critical for an orphaned fawn," Keepers of the Wild Director Tina Matejek said. "We will keep this little one in seclusion just as its mother would. Depending on how the fawn develops, it may not meet our other deer until early October."
Keepers of the Wild is a non-profit organization dedicated to the protection of abused, neglected, abandoned and retired captive wildlife. The sanctuary is located at 13441 E. Highway 66 in Valentine, Arizona. Visit keepersofthewild.org or call 928-769-1800 to learn more.
Arizona Game and Fish Instagram Video
More like this story
SUBMIT FEEDBACK
Click Below to:
This Week's Circulars
To view money-saving ads...