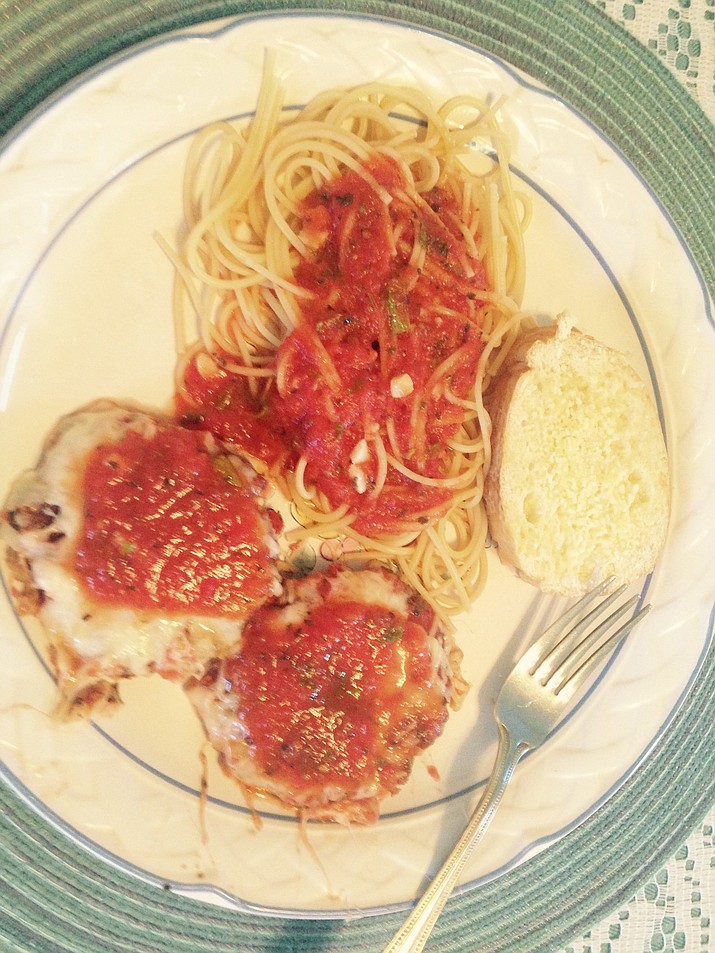 Photo by Diane DeHamer.

Originally Published: August 16, 2017 6:01 a.m.
For you cheese lovers out there, you will love this eggplant dish, which is very tasty with a side of spaghetti and garlic bread.
Cheesy Eggplant
1 medium eggplant
1 cup shredded parmesan cheese
1 cup Mozzarella cheese shredded
1 package ultra-thin sliced Provolone cheese
1 jar spaghetti sauce (your choice)
2 eggs beaten
1 cup flour
1 1/2 cups Panko bread crumbs
1/4 1/2 cups olive oil
Cut eggplant into 1/2 inch slices, salt both sides and put in a colander and set in your sink for about 30 minutes so the egg plant will expel its moisture.
Then rinse off salt and pat dry.
Put oil in a large skillet.
In separate bowls put flour, beaten eggs, and panko.
Dip eggplant into flour first, then egg, then panko crumbs. Then place slices in skillet, and cook about 3 minutes on each side until brown.
In a 9-by-13 baking dish, pour a cup of sauce over the bottom. Then place eggplant slices evenly in dish. Lay 1 slice of provolone on each slice of eggplant. Cover with sauce, then sprinkle parmesan and mozzarella cheeses over the top.
Bake at 375 degrees for 30 minutes.