Prescott No. 1 in Expedia's state destination for nature lovers
New list ranks city for its natural beauty

By
Cindy Barks
|
Cindy_Barks
Originally Published: August 14, 2017 6:05 a.m.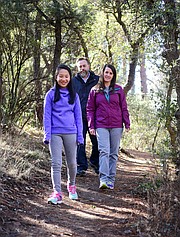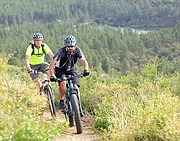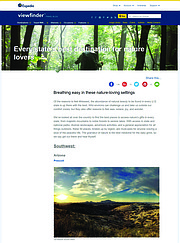 Locals who are "craving a slice of the peaceful life" don't have to go far to find it.
In fact, they're already there.
In its latest showing on a nationwide list, Prescott was named Arizona's "best destination for nature lovers" this week by the Expedia website's Viewfinder travel blog.
A 30-page online feature splits each of the 50 states into regions, and picks the best natural spot in each state.
"With access to state and national parks, diverse landscapes, adventure activities, and a general appreciation for all things outdoors, these 50 places, broken up by region, are must-sees for anyone craving a slice of the peaceful life," states the article's introduction.
Under the Southwest section, Prescott is described as: "Surrounded by 1.25 million acres of national forest, and especially good for mountain bikers, Prescott also boasts 16 parks and three lakes, on which you can kayak or canoe with Prescott Outdoors."
Locals don't require any convincing.
"I think what sets Prescott apart is the diversity," said Joe Baynes, who oversees the community's parks and lakes in his role as city Recreation Services Director.
As an example, Baynes points to the diverse terrain along the 55-mile Prescott Circle Trail, which he said rises to 6,700 feet elevation in spots and drops to about 4,000 in others.
"You go from ponderosas to chaparral to riparian areas," Baynes said, noting that Prescott's mild four-season climate also adds variety.
For others, nature means wildlife.
Local photographer Everett Sanborn points out that Prescott offers "an almost unlimited menu of opportunities to view wild birds, owls, falcons, ducks, geese, herons, egrets, pelicans, birds of prey, deer, javelinas, coyotes, foxes, pronghorns, bobcats, rattlesnakes, and even an occasional mountain lion."
As with most other locals, Sanborn has a difficult time coming up with just one preferred spot.
"My favorites of the lakes are Lynx Lake," he said "especially when the nesting eagles are here, and then Goldwater Lake where you can also sometimes view the visiting eagles, and where I had the unforgettable experience of a face-to-face meeting with a beautiful mountain lion."
Sheri Heiney, president of the Prescott Chamber of Commerce, also has a hard time choosing. "I'm in love with the Dells and the Peavine trail," she said, adding, "And Lynx Lake is also gorgeous, and so is Granite Mountain."
Heiney notes that when she and her husband John moved to Prescott this past year, one of the community's main attractions was "the natural beauty and the recreational part of it."
Indeed, Robert Coombs, manager of the Visitor Information Center at the Chamber, says the area's natural beauty is a major selling point for tourists. "That's a biggie – it's what gets people here; that's what they're looking for," he said.
Coombs estimates that upwards of 40 percent of the people who visit the center ask about outdoor opportunities. And that includes all age ranges. "We guide a lot of people to the Highlands Center trails, because a lot of people have kids, and most parents these days seem to be outdoorsy," he said.
Overall, Coombs said, "Prescott's very easy to sell."
City Manager Michael Lamar agrees. "In the short time we have lived here, my family and I have enjoyed many of Prescott's trails and parks," he said. "We are fortunate to boast the Prescott National Forest; the one-of-a-kind Granite Dells; Willow, Watson and Goldwater lakes; and 450 miles of multi-use trails."
The "nature lovers" ranking represents the second time in recent months that Prescott made an Expedia Viewfinder list. In May, the blog listed Prescott as one of the country's "hot cities with cool downtowns."
A news release from the city notes that Prescott has received numerous other rankings in the past several months as well, including the Number One Place to Live in the Southwest by Sunset Magazine, and the Top 13 Happiest and Healthiest Places to Live in the Nation by time Magazine.
The nature-lovers Expedia feature can be seen at: https://viewfinder.expedia.com/features/best-destinations-nature-lovers-every-state/
More like this story
SUBMIT FEEDBACK
Click Below to: