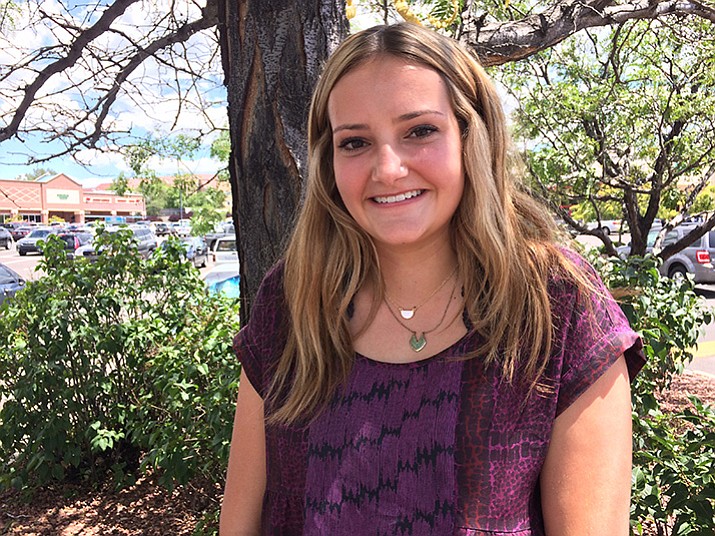 Photo by Nanci Hutson.

Originally Published: August 13, 2017 6:04 a.m.
Prescott High School senior Alexa Rosdahl is a proud product of the Prescott Unified school system and eager to provide insights that might help shape decisions that will impact future generations.
The youngest in a three-child family – her two siblings, Prescott High distinguished graduates Levi and Sierra, both earned commissions to West Point Military Academy; Levi just graduated and Sierra is a junior – Alexa is a stand-out student who like her siblings is prominent in school and community life.
"I hope to make a difference in the community before I go off to college. I want to leave the school a better place than I found it," Alexa said.
The college-bound senior who wants to become an engineer – she is still college shopping and has not
ruled out a military academy – has already amassed an impressive student record of service: she is the Student Council secretary; Key Club president, a member of the National Honor Society, has served as a volunteer tutor at Taylor Hicks Elementary and volunteers to assist a family friend who is a quadriplegic. She was also a cheerleader during her earlier high school years.
Her latest achievement, a first in her family, was selection to serve as the high school's student representative on the Prescott Unified School District Governing Board.
District Superintendent Joe Howard interviewed Alexa, and found her to be an ideal choice for the position that has been a tradition in this district since his father, Jim, was the superintendent. Alexa was one of a handful of candidates for the post.
Not all districts have student representatives, but Howard said he sees it as an opportunity to get a young person's perspective on their education, and offer insights into decisions the board makes so that they resonate in the right way with those impacted most: students and parents.
"If we make decisions on what is best for kids, then we're always doing the right thing," Howard said.
"Alexa has been through our district, kindergarten to 12th, and I've watched her grow up," said Howard who is well acquainted with her family, including her parents, grandparents and siblings. "She's a great kiddo; super articulate, thoughtful and very involved in Student Council so she is already a student representative."
From the interview that included Principal Stephanie Hillig and board member John Mackin, Howard said Alexa showed that she takes the position seriously, and will likely bring good ideas and information to the board to digest.
"She comes from an incredible family, but she's her own person," Howard said. "She's excited to give back just as her family has."
"I'm very grateful to have been raised in this community, and to be involved," Alexa said. "It's important to me to recognize that PUSD has given me a really good education and given me opportunities to succeed and do what I want to do."
In her role on the board, Alexa said she hopes she can "open the eyes" of board members to what goes on at the high school, as well as in the other schools, so that they keep that in their thought process as they are making their decisions on everything from curriculum to budgets.
One of the teachers Alexa admires, AP calculus teacher Marcie Jacobs, said she is an "excellent choice" as the district's student representative.
"She always brings a positive attitude and does not hesitate to ask questions to make sure she fully understands the material," Jacobs said.
She described Alexa as a "very dedicated and hardworking student … a wonderful young lady."
Alexa is eager to embrace and make the most of this latest educational opportunity, noting she does not fear the time commitment as she is adept at making time for whatever matters most, be that her school work and activities, or now, her board responsibilities.
"I'm very committed to whatever I do. I give it my all," Alexa said.