Prescott's 'New' Entertainment District: How will the designation impact downtown businesses?

By
Max Efrein
|
mefrein
Originally Published: August 13, 2017 6:01 a.m.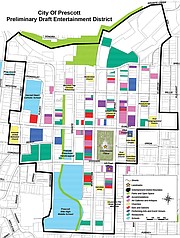 Now that downtown Prescott has been designated an entertainment district, what does this mean for businesses in the area?
For some, the benefits are direct and imminent.
Along South Montezuma, less than one block from Whiskey Row, are several businessmen looking to expand their services given the news.
Perhaps best known among them is Far From Folsom. Before being transformed into what it is today, the restaurant was once a full-fledged bar with a series 6 liquor license — this had been the case for many years.

At some point in recent history, however, the bar license was not properly renewed and the property's grandfathered privileges for being exempt from an Arizona law were wiped. The law — considered antiquated by some — states that establishments are not allowed to be issued most forms of liquor licenses if they are within 300 feet of a church or school.
Far From Folsom borders Mile High Middle School's football field, so it is well within this distance. Not knowing about this restriction when he purchased the building in 2015, Joe Lohmeier had also acquired a series 6 liquor license — an expensive investment — hoping to use it for that location. Once finding out about his predicament, he decided to make the best of it by settling for a restaurant liquor license, which is not restricted by the 300-foot rule, but requires at least 40 percent of the business's sales to come from food.
He made this work in his first year of business, but it prevented him from hosting as many large music acts as he originally envisioned for the business.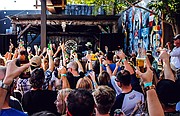 "I limited the number of big name acts I brought in, because it's all alcohol sales when I bring a big band; any concert venue is," Lohmeier said.
Though it is still up to the Prescott City Council to approve his use of his series 6 liquor license at that location, the entertainment district designation at least makes it possible for that to happen.
"I could bring more art to town," Lohmeier said. "I could do a show and afford to pay them because I don't need to worry about food numbers. It takes the handcuffs off of businesses."
Neighboring Far From Folsom is a business called Coppertop Alehouse, a microbrewery. Its owner, Scott Whitney, has been considering expanding his business, but is also limited to some degree by the 300-foot rule.
He's already made plans to start a craft distillery on the premises, which was not restricted, but wishes to also open an adjacent remote tasting room, which was restricted.
"Once we get through with our craft distillery, all of a sudden we can now have a remote tasting room," Whitney said.
The owner of the building that houses Coppertop Alehouse, Jason Orefice, also has some plans for another part of the building now that the entertainment district has been approved.
Below what used to be Moore's Laundry & Dry Cleaning is a long forgotten speakeasy.
"We're going to knockdown Moore's Laundry and try to rehab the speakeasy," Orefice said.
He's even looking at building four additional stories next to it and calling the whole thing The Golden Nugget, which was the name of the original speakeasy.
Had the entertainment district not been approved, Orefice said he probably would not be nearly as ambitious with the space.
"I wouldn't have considered doing it, because I don't want to limit myself to who I can rent to," he said. "I want to be able to have restaurants and bars. It's probably going to be $4 (million) to $5 million to do all of this in a couple phase process."
Looking farther downtown, not everyone is so excited by the entertainment district designation.

Dave Michaelson, owner of The Palace Restaurant and Saloon, expressed surprise that the Prescott City Council approved it this past Tuesday. He has been opposed to the idea since first hearing about it and was a vocal objector at several of the council's meetings over the matter. Upset about the approval, he decided not to comment for this story.

Such disappointment was not shared by the owners of Prescott Public House, however. The relatively new bar off Gurley Street in downtown has no plans to benefit directly from the designation, but its owners perceive it as a plus for the whole area.
"You have to look at it like Prescott is constantly competing with other places people can go for entertainment," said Mark Walters, who co-owns the business with his wife. "We all know that people like to hop from bar to bar, so if [the entertainment district] allows a couple extra bars to come in that are big draws for people, that's awesome for everybody, because that's just more exposure for all of us."
Kendall Jaspers, director of the Prescott Downtown Partnership, is thinking along the same lines as Walters, but doesn't think much will change too quickly.

"I don't think there are going to be 20 bars that spring up," Jaspers said. "I think down the road, when there are some significantly sized parcels of property redeveloped, I think it will be very useful."
And overall, he's glad the entertainment district was designated downtown rather than somewhere else in the city.
"It's a big opportunity to market the downtown," he said. "Now we have an entertainment district, let's do some things to make that sing."
More like this story
SUBMIT FEEDBACK
Click Below to:
This Week's Circulars
To view money-saving ads...