Need2Know: Specialty cars; Canyon Auto; online school moves; Natural Grocers

By
Max Efrein
|
mefrein
Originally Published: August 13, 2017 6:01 a.m.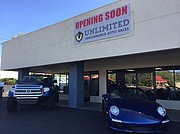 Specialty car dealership opening soon
A specialty car dealership will soon be opening where Prescott Honda used to be, 1230 W. Iron Springs Road.
"This is a new business, but we've all been around this industry for a long time," said general manager Kyle Bryce.
The business is called Unlimited Performance Auto Sales and its owners are Jerome and Amie Cutler. It offers stock vehicles that have been enhanced with additional features.
They anticipate officially opening in about a week or two, Bryce said.
Canyon Auto coming soon too
Right next door to Unlimited Performance Auto Sales will soon be Canyon Auto & Truck Repair.
The business is currently operating from 697 6th St. in Prescott, but will be moving into 1240 Iron Springs Road in Prescott by about the end of September.
"We're expanding," said Benn Librizzi, a service advisor for the business. "It will be a much bigger building."
Canyon Auto has been in business since 2001, but came under new ownership in May 2017, Librizzi said.
All About Kids has moved
A hybrid online school in Prescott Valley called All About Kids Learning Center has relocated.
Previously housed on the second story of 8150 Florentine Road, the school is now at 8991 E. Valley Road (near Alvarez Tire).
For information, call 928-772-9600.
Natural Grocers anniversary
Natural Grocers in Prescott is celebrating its 62nd anniversary Aug. 17. The store will have demos and tastings by Dr. Vicky Elliott, Natural Grocers Nutritional Health Coach, as well as hourly prizes and a grand prize. For information, visit www.naturalgrocers.com/store-location/prescott/
To submit items for the Courier's Need2Know, email twieds@prescottaz.com; for legal advertisements, email tbryant@prescottaz.com.
More like this story
SUBMIT FEEDBACK
Click Below to: