Great American Eclipse: locals hope to catch full experience, students plan to document

By
Max Efrein
|
mefrein
Originally Published: August 13, 2017 6:05 a.m.
On Monday, Aug. 21, a total solar eclipse will be passing directly over the United States.
This isn't a once-in-a-lifetime opportunity to see a total solar eclipse, but it is a convenient one for those residing in the U.S.
A solar eclipse is a celestial event in which the moon passes between the sun and Earth, blocking all or part of the sun for up to about three hours, from beginning to end, as viewed from a given location, according to the National Aeronautics and Space Administration (NASA).
Since 1970, there have been 104 solar eclipses, 31 of which were total. Of those 31, only three passed directly over a portion of the United States, according to NASA. The last to pass over a state was in 1991 and that state was Hawaii.
The last coast-to-coast total solar eclipse — like this one — to pass through the U.S. was in 1918, according to NASA data. The path stretched from Washington to Florida. This year's 'path of totality' will start in Oregon at 9:05 a.m. (Arizona time) and will end in South Carolina at 11:48 a.m. (Arizona time).
This has sparked unprecedented excitement in the red, white and blue. Hundreds of thousands of people, including some from Prescott, have made arrangements to be in the path of totality at the time of the event.
J.B. Burke and his wife are two of those locals. They've read up on the phenomenon and started making plans about a year ago to see the full scale of the event.
"There are all kinds of people who say it is the most profound event that you'll ever experience in your life," Burke said. "It's just kind of an amazing thing to see the sun blotted out and the sky go dark and the birds stop singing and all kinds of weird things happen for just a little while."
Their plan is to arrive in Salem, Oregon, the day before and find a good spot outside the next morning to post up. There is some concern, however, that an overcast day could dampen the experience.
"I'm sitting and watching the weather reports to see if there will be any chance of seeing it," Burke said.
Path of totality
For those standing in the direct path of the totality, the sun will be completely blocked out for about 2 to 3 minutes.
This doesn't provide a whole lot of time to appreciate the moment. That's why many are planning to document the occurrence.
Prescottonian and skilled photographer Bill Zombeck has made arrangements to not only drive to an area within the path of totality, but photograph the whole event from start to finish.
"I plan to do the whole sequence, so roughly two-and-a-half hours," Zombeck said. "My plan is to take shots every 12 minutes."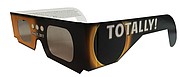 To do this safely, he has acquired solar glasses — which are highly recommended for anyone attempting to view the eclipse — and a solar filter for his camera's lens.
"I've been practicing doing solar photography just in my backyard so that I get used to shooting the sun," Zombeck said. "Cause it's scary, you only have a couple minutes to get the totality shot, so you can't be fumbling around. You need to know what to do during that time."
How to view it safely
To view a solar eclipse safely, it is highly recommended people acquire solar glasses. These shades are strong enough so one may look directly at the sun and not experience any significant eye damage.
"It darkens the whole exposure, so that you can see the sun as an orange ball as opposed to just a white speck," Zombeck said.
Though these "eclipse glasses" are cheap — maybe $1 or $2 each — it is important to buy those that actually do what they are designed for.
Just as there are counterfeit Ray-Ban sunglasses, there are fake eclipse glasses.
Typically, consumers should look for the stamp of approval from the International Organization for Standardization or ISO and a label indicating that the product meets the ISO 12312-2 international safety standard. 
However, con artists have been reported to put such stamps on their glasses as well, so a safe bet is to purchase from a reputable vendor instead of just any random site online.
The American Astronomical Society has an online list of reputable vendors at its website. See www.eclipse.aas.org/resources/solar-filters.
Several major retailers have begun to sell ISO-compliant safe eclipse glasses or handheld viewers in-store as well, including Kroger, Wal-Mart, REI, Toys "R" Us, Lowe's, Best Buy and 7-Eleven. 
Where to celebrate locally
For those in Prescott looking to catch a glimpse of the solar eclipse, little more needs to be done than just stepping outside and taking a look.
Of course, the aforementioned protective eyewear is highly recommended. Aside from that, all one needs to do is reserve some time between 9 a.m. and noon. The peak of the eclipse — when the sun will be most blocked by the moon, will occur at 10:32 a.m. in Prescott, according to timeanddate.com.
If more of an event is sought for the viewing, the Prescott Valley Public Library and the Prescott Astronomy Club will be hosting a solar eclipse celebration from 9 a.m. to noon at the Prescott Valley Civic Center Amphitheater, 7501 E. Civic Circle.
The event will feature educational information on why solar eclipses occur, as well as activities for all ages. Free solar eclipse glasses will be given to attendees. Coordinators of the event can be reached for questions by calling 928-759-6188.
Live video stream link from NASA: https://www.nasa.gov/eclipselive
NASA video narrated by George Takei
NASA video: Get Ready for the 2017 Solar Eclipse
Learn more at: https://eclipse2017.nasa.gov/
Related Stories
More like this story
SUBMIT FEEDBACK
Click Below to:
This Week's Circulars
To view money-saving ads...