Like big beards? Whimsical Woodsman, friends are back
Internet sensation promotes body acceptance ... one beard at a time

Originally Published: August 12, 2017 6:07 a.m.
I'm OK, you're OK.
That wasn't the sentiment Prescott photographer Chad Castigliano had in mind when he shared the first photos of Tim "The Whimsical Woodsman" Wilson in April 2016.
But the photos — featuring a bearded Wilson in skivvies, suspenders, hiking boots, a helmet and not much else — went viral, with mentions on national and international blogs and websites. (The Whimsical Woodsman is big overseas, especially in Germany, he said.)
That's when Castigliano, of Chronicker Photography, started getting messages from around the world. They included notes from heavyset or transgender teens who wrote, "Thanks for making me feel better about myself."
"It's not something I think about," Castigliano said, adding that Tim, his friend, neighbor and a wildland firefighter, is "just Tim."
The photo shoot, which started as a way to help Books to the Rescue, an organization spearheaded by Castigliano's wife Jasmine (see related item on this page), has spawned a movement. A Facebook page with more than 111,000 likes features not just the Whimsical Woodsman, but an ever-growing list of Friends.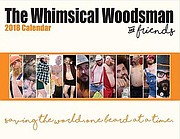 Among them are the Fabulous Farmer, Ravishing Rancher, Majestic Mountain Man, Blissful Barman, Bashful Brewer, Voluptuous Viking, Captivating Captain, Culinary Cutie, Audacious Off-roader (Wilson's real-life brother) and Wistful Warrior.
The newest Friend is The Raffish Rambler, an ex-military man from Utah. At 60-plus, he's the oldest of the bunch, chosen by popular vote on the Facebook page. Soon to be revealed — no pun intended — are The Outlandish Outdoorsman (Idaho) and The Sultry Soldier (Oregon).
Comforting kids in times of trouble
The goal of Books to the Rescue — Yavapai County is to support first responders in their ability to help children in an emergency situation, program director Jasmine Castigliano said.
The organization stocks first responders' vehicles with bags full of books and stuffed animals, some targeted to specific situations such as loneliness and anxiety, she said. There are also activity books, puzzles and sticker books to focus kids' attention elsewhere while mom and/or dad talks with officers.
Each bag costs $250 and can serve 30 to 40 children, she said.
Childrens' charities have a tough time getting donations, Chronicker Photography's Chad Castigliano said. That's why he came up with the idea for The Whimsical Woodsman, a "dudeoir" photo shoot with wildland firefighter and friend Tim Wilson, to raise money for the program.
"This is the only thing I could do to help her," he said.
Visit thewhimsicalwoodsman.com to order a 2017 calendar featuring The Whimsical Woodsman in various poses (currently on sale for $7) or a 2018 13-month calendar featuring The Whimsical Woodsman and 12 Friends for $15. Other merchandise is also available.
Proceeds support Books to the Rescue — Yavapai County.
ONLINE:
Books to the Rescue — Yavapai County: bttryavapaicounty.org
The Whimsical Woodsman — thewhimsicalwoodsman.com
Chronicker Photography — chronicker.com
All of the models pose in the "dudeoir" style — in few clothes and tongue-in-cheek poses — and they all have facial hair. Their prominent mustaches and beards provide The Whimsical Woodsman and Friends' catchphrase: "You're beardiful."
The pictures send a message about being comfortable in your own skin, Castigliano said. "It's amazing."
The guys in the photographs — and fans of the page — all have a good sense of humor.
"It attracts a certain element," he said. "Everybody's good-natured."
That includes Wilson, who's taking all the attention in stride. In a 2016 interview with the Courier, he told of attending his son's ballgame soon after the photos came out. He noticed snickering, but no one mentioned them until one of the coaches said he had a photo he wanted Wilson to sign.
"It's just crazy that it's getting so big so fast," Wilson said at the time.
Even with good-natured subjects, the photo shoots start off awkward.
"That first 10 minutes is weird," Castigliano said, adding after that, the guys tend to cut up and be themselves.
Many of the guys volunteer for the dudeoir shoots because they want to help kids.
"Every day we have people coming to us," he said.
Jasmine added some are members of "beard clubs," who do good works in their communities. "So many unexpected positive ripples," she said.
Eventually, Castigliano wants to have a model in every state — 10 are already covered — and publish a coffee table book with all 50. He already picked out a title: "The United States of Whimsy."
"I don't really know where this is going yet," he said.
A Chronicker Photography re-branding may be in the cards.
"I enjoy this more than the regular photos," he said, adding that the beardiful shoots are more fun.
Chronicker's new brand would focus on allowing subjects to be who they want — as he did with Prescott High School grad Zach Sweeney's recent senior photo shoot at Subway, which also went viral.
Everyone at that Subway knew Zach, a student council member and football player who takes a firm stand against bullying, Castigliano said. "It allowed him to be comfortable."
During the shoot, Castigliano said Zach's mom issued an important instruction: "Don't let anybody pose you."
The Woodsman and Friends may pose in their photos, but it's not because Castigliano poses them. Rather, he shoots them being themselves.
"I'm capturing people," he said.
More like this story
SUBMIT FEEDBACK
Click Below to: