City: Public safety could suffer without additional sales tax revenue
Growing PSPRS payments could lead to police, fire cuts

By
Cindy Barks
|
Cindy_Barks
Originally Published: August 6, 2017 6:02 a.m.
Editor's note — This is the fourth in a series of articles looking into the financial woes of the Public Safety Personnel Retirement System (PSPRS), and Proposition 443, the City of Prescott's sales-tax-increase measure that will be on the Aug. 29 primary ballot.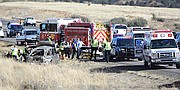 When massive heartburn and chest pains signal the onset of a heart attack, seconds can count.
Prescott Firefighters and Lifeline Ambulance staff demonstrated that this past week by going through the steps of treating a heart attack victim — checking vital signs, starting chest compressions, setting up a stretcher.
It was all a part of a drill during the Aug. 3 meeting of the Prescott Area Wildland Urban Interface Commission (PAWUIC), but the intensity of the demonstration made several critical points: Each of the responders plays a role, and quick response is crucial.
Both factors are in jeopardy, however, as the city faces higher and higher costs from its public-safety pension, say officials.
Proposition 443:
What if it fails?
While views vary on the need for the city's ballot measure asking for a 0.75-percent sales tax increase, officials say an erosion of public-safety services is a near certainty without additional revenue.
In recent years, growing costs with the Public Safety Personnel Retirement System (PSPRS) have led to a series of city staff cuts. In late 2015/early 2016, the city froze and trimmed a number of positions in all of its general-fund departments, and officials say more of the same is in the future if the sales tax fails.
In the fire department, for instance, Chief Dennis Light points out that even with the recent SAFER (Staffing for Adequate Fire & Emergency Response) grant that allowed the city to restore three frozen firefighter positions and fill other vacant slots, "We're at the very bare minimum now."
Prior to the SAFER grant, the department had regularly browned out (temporarily closed) a fire station.
Light predicts that without additional revenue within the next five years, the department would have to permanently close two of its five stations.
"It gets magnified as the years go on," he said, maintaining that the financial situation would lead to a "circling of the drain for public safety."
With fewer staff members and fewer fire stations, he said response times would take a significant hit.
Currently, the department responds to calls within nine minutes and 48 seconds 90 percent of the time (the 90th percentile of emergency call). With the cuts that would be needed in the coming years, Light said, "We would have response times in excess of 15 minutes."
And although the city has broached the possibility changing its service models, Light questions the push toward smaller vehicles and fewer emergency-service staffers.
During the PAWUIC demonstration, Light noted that the question he hears most frequently from area residents is: "Why does a fire truck show up when just a smaller vehicle could do?" His response: "The fire truck is our tool kit. We have to have our tool kit there to do our job."
Fire Marshal Don Devendorf added that reducing the number of crew members from the current minimum of three would also affect the response.
Referring to the three firefighters and two ambulance staffers who carried out the heart-attack response drill, he said, "We needed five people. They were all busy."
Police impacts
Like the fire department, the Prescott Police Department has also had its share of cuts in recent years.
"Over the last three years, seven sworn officers were eliminated," Police Chief Debora Black said. Without additional city revenue, she said, "We would have to continue that reduction."
And it likely would not take long for the department and the community to begin to feel the effects. Already, when police officers retire or resign, Black said there is a "level of review" on whether to fill the vacancy.
Without the revenue from Proposition 443, she expects that review to be intensified. And with an average of 9.75 officers leaving their positions each year, the intensified review likely would lead to some frozen positions, Black said.
"We wouldn't want to be filling positions that we are not going to be able to sustain in the future," she said.
City Manager Michael Lamar agreed. "The most logical start would be freezing open positions," he said.
While noting that the department's patrol division could not sustain any further cuts, Black said the reductions would likely be in areas such as community service officers and investigations.
Still, Black says that if 443 were to fail, the police department "would do everything possible to identify alternate methods of service delivery (such as outsourcing and civilization of functions), as well as look for ways to create efficiencies within department operations."
Even with those efforts, though, she said, "I don't see how service levels wouldn't be diminished."
Mayor Pro Tem Jim Lamerson, while stressing that his main emphasis on the Prescott City Council has always been on maintaining "basic essential services," said he also would see no way around future public-safety cuts.
With police and fire costs absorbing about 80 percent of the city's general fund, Lamerson said, "Where do you think the majority of cuts would have to come from? That doesn't mean I like it."
Reserve funds
One of the points that opponents of Proposition 443 have emphasized is that the city could maintain service levels for several years through use of its reserve funds.
But Lamar says that would be a temporary fix at best.
Currently, he explained, the city sets aside 20 percent of its operating costs, "which we don't touch." That is an industry standard, Lamar said, and without it, the city's bond rating could be affected, which would lead to higher interest rates for borrowed money.
And even if the city were to go that route, Lamar said the reserve would not last long. "You could use your reserves for the short term — maybe two to three years," he said. "It's a pittance in comparison (with the city's unfunded liability)."
Along with the expected staff cuts, Lamar said other impacts from the failure of Proposition 443 could include selling more of the city's assets and looking to contract out more services.
But, he said, at that point, "We wouldn't be negotiating from a position of strength."
Other general-fund departments such as parks and recreation, library, and community development also likely would see continued cuts, Lamar said.
Prescott voters will decide the fate of Proposition 443 in the Aug. 29 primary.
Related Stories
More like this story
SUBMIT FEEDBACK
Click Below to: