Dance can add years and meaning to life at any age

By
Nanci Hutson
|
HutsonNanci
Originally Published: August 5, 2017 6:02 a.m.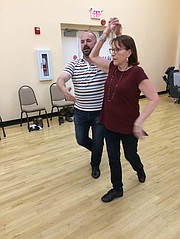 At 100, Lois "Mimi" Blankenship can still stretch her leg over her head and rarely misses her daily stroll, crediting her good health, mental acuity and movement to years of dance and music.
"I have wonderful legs," declares the centenarian who until three years ago spent three decades in Prescott teaching and performing dance and musical routines with people of all ages. "Maybe the rest of me isn't too perky, but boy, my legs are good. I can still walk four or five blocks. And people will hear me singing my tunes. If I had good eyes, I'd still be dancing."
Blankenship, who now lives at a retirement home in Rhode Island closer to her daughter, Judy, is a living testament to the research that suggests dance can extend and enrich the lives of senior citizens.
"All us have a rhythm so we can move if we don't give up on ourselves," said Blankenship, who celebrated her milestone birthday in March. "I still have it. I think I surprise my daughter with what I can do."
Her daughter admits to that truth. "She still does ballet exercises in her kitchen and walks every day," said Martin, noting that her mother's mind is also still as sharp as ever. "She is nearly blind, but she doesn't allow that to hold her back very much."
Just the other day, she stretched her leg up almost over her head to reduce swelling in an ankle, Martin said.
"I don't know many 100-year-olds that can still stretch their legs like that," she said.
On a recent Tuesday night at the Adult Center in Prescott, Dixie Mathis joins a nightclub two-step class.
The 86-year-old who has been a ballroom dancer for half a century said she is just starting to dance again after back surgery; she considers it part of her physical therapy.
"The doctor didn't prescribe it for my health, but I started to dance again. It's been hard, but you just keep going. I love the people who dance. I love the people who I meet."
In the class of primarily couples, Mathis is a bit tentative as she listens to instructor Ronnie DeBenedetta teach the steps. She then slowly glides across the floor, her grace and precision a clue into her long-ago acquired aptitude for the basics she said come in handy whether she is dancing the waltz, the foxtrot, or the latest country style. DeBenedetta and another male dancer take Mathis as their partner for a couple demonstration moves. Her feet knew where to go.
Another class member, Prescott summer resident Bob Witkowski, 73, said he met his first wife at a dance before their wedding more than 50 years ago. She died five years ago. He then met his second wife of three years, Patricia, at a dance in the Phoenix area.
"Dance has been an important part of my life. I've always liked music, and always liked being active. And dancing is listening and enjoying music and being active with it," Witkowski said. "It's a fun activity, a great social activity, and it's good exercise."
National medical researchers, including mental health professionals, have stated that dance can help seniors not only avoid health ailments and depression but can stall dementia, said DeBenedetta, a world champion dancer and instructor at the Adult Center.
"Anybody can dance," assures DeBenedetta, who teaches beginner and intermediate classes in country two-step, nightclub two-step and West Coast Swing.
His next round of classes are in September on Tuesday nights.
"If you can walk into class, you'll be dancing by the end of the month," DeBendetta said.
Mathis said she is always telling fellow seniors she knows to take a class. She promises it is a no-side effect prescription.
"I'm not going to play pickle ball, soccer or tennis. I'm too old for that. But you don't need a partner when you go to these dances. You just show up for the class, pay your way, and off you go."
More like this story
SUBMIT FEEDBACK
Click Below to: