City Council, mayoral candidates address water issues at CWAG forum
CWAG, public ask questions during forum
Originally Published: August 5, 2017 7:48 p.m.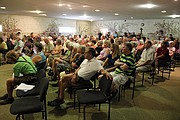 PRESCOTT — All but two candidates running for Prescott City Council or Mayor this election season were present to provide their views on water issues facing the Prescott area during this year's Citizens Water Advocacy Group (CWAG) candidate forum Saturday.
The two who were not present were Greg Lazell and Steve Blair, both of whom had conflicting obligations.
Those present running for a council seat were Alexa Scholl, Constance Cantelme, Phil Goode and Joe Viccica.
Those present running for mayor were Jean Wilcox, Greg Mengarelli and Mary Beth Hrin.
Before delving into a series of water related questions, the candidates were allowed to briefly introduce themselves and state what measures related to water management and conservation, if any, they plan to propose to the council in 2018.
Just about every candidate said they wish to encourage additional conservation efforts going forward. Most stated that educating the public about what each individual can do to conserve is essential to accomplishing this.
"Through social media, partnerships with our local schools, as well as partnerships with organizations like CWAG, I feel that we could really educate our population on easy ways to conserve water to ensure our water future," Scholl said.
Some felt this was enough of a push, while others had a more hardline view of what should be done.
"The two measures that I would like to see in 2018 are, one, a rain water harvesting ordinance that requires new development to install rain water harvesting in construction," Wilcox said. "Secondly, a change in our rate increase system, so that the rates go way up during the landscaping watering months, because that's when our consumption is the greatest and there we have the greatest amount of waste."
Hrin directly disagreed with Wilcox's idea of putting pressure on future construction.
"Because of my view of government, I do not believe in mandatory anything as far as forcing new developers to do anything," Hrin said.

Goode listed off a number of other measures he believes would benefit the matter, including creating a regional water authority "so we can have our neighboring towns and county cooperate for long-term solutions to a dwindling water supply while protecting the riparian habitat for the Verde River," he said.
Five questions that were provided to the candidates two weeks before the forum were then asked by CWAG members. Each candidate was given one minute to address each question. The list of questions can be found by going to cwagaz.org. Several questions from the audience were then asked and answered by the candidates as well.
A video of the entire two-hour forum will be available to view at cwagaz.org by Monday, Aug. 7.
More like this story
SUBMIT FEEDBACK
Click Below to:
This Week's Circulars
To view money-saving ads...