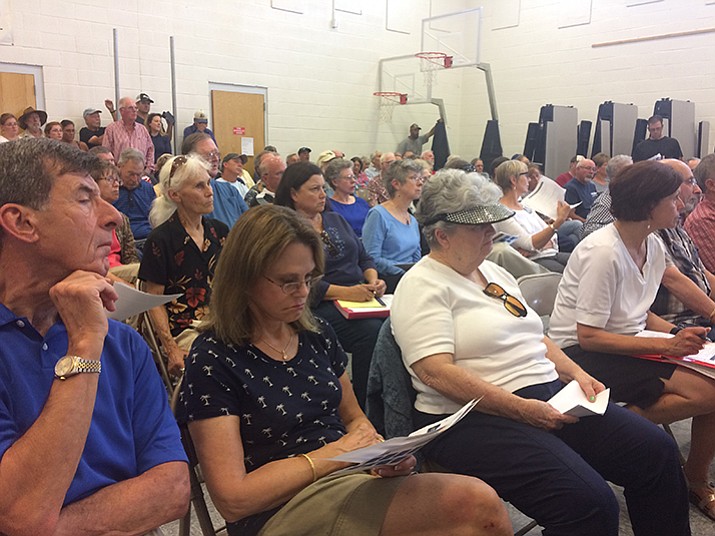 Originally Published: August 4, 2017 5:50 a.m.
Residents both for and against the Kirkland Mine flocked to a community meeting in Skull Valley on Wednesday, Aug. 2, put together to address rumors as well as provide information, said Penny Pew, district director for Rep. Paul Gosar.
Neither the Bureau of Land Management nor Kirkland Mining Company were present as they had not been invited, in order to give local proponents and opponents a chance to make their voices known, Pew said, noting the extending scoping process giving people until Friday, Aug. 25, to submit comments.
The material in the mine, pozzolan, is highly sought after, said Skull Valley resident Donald Rodenkirk, citing a study from the University of Arizona and Army Corps of Engineers.
"When the market hits right, it would be just as valuable as copper is to Arizona as far as industry. This is something we really need to take a look at and mitigate also so it doesn't hurt our town," Rodenkirk said. "I'm a local miner from Bagdad, I grew up there. I just moved to Skull Valley. It's intriguing me on both levels. I'm raising my kids next to it and I'm a miner, it's got my attention and I'm not going to let it slide by. I'm interested in them doing it well."
The people in attendance from the community meeting had nothing to gain from the mine and the mining company stands to make a lot of money, said Ron Harvey, to which Rodenkirk responded by saying that when he was in Bagdad, there were about 70,000 trucks and deliveries a year and though it was a small community, it provided significant revenue to Yavapai County.
There were some comments concerning traffic, roads and transportation of materials, which County Supervisor Rowle Simmons replied to, noting the mining company is looking at ingress, egress, acceleration, deceleration lanes and the county is poised and ready to review all of the plans that will be brought out in public. Using the railroad has not been taken off the table either, Simmons said.
State Representative and Chairman of the Transportation Committee Noel Campbell, R-Prescott, said he has his staff looking into the transportation issue and noted his preference for the rail solution.
Resident Fiona Reid brought up Erionite dust, mentioning if it exists in the mine, it will be unable to open. Further, there can be as much talk of mitigating all the effects the mine will have, but the crippling effect the mine would have on all the surrounding communities cannot be mitigated, Reid said.
There should be an additional extension for an educated devaluation on what will happen to the community, said resident Tom Pleington.
"I am fortunate enough that I have a good job and I can move, but there's a lot of people here who can't move and they are going to be impacted the day that mine opens up and there's nothing you can do but react," Pleington said. "I think you need to go to Congress and tell them to put pressure on the BLM because it's a political issue."
Some made comment that Pew didn't have the answers to a lot of questions, with one stating it's impossible to knowledgeably make a decision while getting strung along. As an answer, Pew said since it's early in the process, all the facts haven't been put out and they can't be found until they're put out.
Resident Brian Hampton said he's lived in the area his entire life, having been born in Prescott and raised in Kirkland to a fourth-generation ranch family that's been here since the 1940s. The mine has been around since the 1920s and on again, off again since the 1980s, Hampton said.
Also, the pozzolan can be used for all kinds of things, including a greener cement that will reduce carbon dioxide emissions by up to 50 percent or more, and Erionite dust has not been proven to be in the mine, he said.
"You guys can keep throwing that out there all you want, but you need to get the facts. You guys want to make the scoping period bigger. We already know the majority of the issues the mine faces and air quality, water, traffic, noise, these are all taken into consideration. Extending the scoping period is just going to give us more comments on the same issues," Hampton said, adding that market analysis to find out where the markets are even at and the studies on things like hydrology and traffic need to be completed but won't get done if it stays in the scoping period.
"I understand that people are angry and against this mine, you don't want it in your backyard and I totally get that, but there needs to be the rest of the study to be completed before you can even know what to be angry about. Otherwise, we're just being angry to be angry. We don't have all the facts yet," he said.
Right now, nothing is a done deal with everything in the drafting process, Pew said, remarking on a comment she had previously heard.
"Things could change," she said. "They could find something out there when they're doing their tests that would stop the project."
Comments can be submitted to the BLM by email at kirkmpo@blm.gov or by mail to Shelby Cave at the BLM Hassayampa Field Office, located at 21605 N. Seventh Ave. in Phoenix.