'A Long Way Home' theme of this year's Cowboy Poets event

Originally Published: August 3, 2017 9:44 p.m.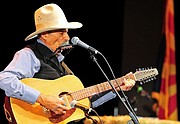 No drugstore cowboys, these are the real McCoy cowboys and cowgirls who ply their storytelling craft around the campfire, and work poems in their head on horseback under the summer sun and winter rain.
The 30th Annual Gathering of Cowboy Poets takes place with three 7 p.m. shows Thursday through Saturday, Aug. 10-12, at the Yavapai College Performing Arts Center. Tickets run from $20 to $35.
More than 50 authentic cowboy poets and singers will share their heritage and the culture of the American Cowboy over three nights and two days. Poetry and music sessions are free all day on Friday and Saturday beginning Friday from noon to 5 p.m. and Saturday 9 a.m. to 5 p.m.
"I think it's going to be the best ever," said Jim Buchanan, chair of this year's Gathering, and 28-year member of the Cowboy Poets committee.
Featured performers include Dave Stamey (Thursday), Trinity Seely (Friday), and Don Edwards (Saturday).
Stamey – cowboy, mule packer, dude wrangler – is one of the most popular Western entertainers working today. He was voted Entertainer of the Year and Male Performer of the year six times, and Songwriter of the Year five times by the Western Music Association. He also received the Will Rogers Award from the Academy of Western Artists.
Seely grew up in British Columbia and now lives with husband and four children on a working cattle ranch in Montana. She has a unique perspective about life as a cowgirl and ranch wife. She has received numerous awards, including one of True West's Favorite Western Artists, and nominations for Western Music Association awards. Seely has recently released her third album, "Cowboy's Wage."
Hailing from Hico, Texas, Don Edwards was nominated for a Grammy for "High Lonesome Cowboy." He has been named the Western Music Association's Male Performer of the Year five times and won Album of the Year twice. Two of his anthologies, "Saddle Songs" and "Songs of the Cowboy" were placed in The Library of Congress. He integrates the day-to-day life of a cowboy with the soul of a poet.
Dennis Gallagher, a fan of cowboy poetry and longtime attendee of the Gathering, said the performers keep getting better and better.
"It's one of the things that make Prescott such a special place in the hearts of those who cherish our Western Heritage and its traditions," he said.
Whether attending day or evening performances, one will enjoy stories and songs about the colorful culture and history that celebrate the true American Cowboy.
"It's been an amazing 30 years, and it's thanks to our hard-working volunteers that have dedicated their time to bring this event to Prescott for so many years," said Joe Konkel, Arizona Cowboy Poets Gathering's board president. "The culture of the real American Cowboy lives on stage here every year and it's been an honor to bring this form of entertainment to locals and tourists alike."
The Arizona Cowboy Poets Gathering has maintained a standard that has been abandoned by most other gatherings: that of inviting men and women who are now, or have been in the past, a part of the working cowboy's environment and workplace.
It is respected by the cowboy poets as one of the best gatherings in the country because it helps maintain the true "working cowboy" culture and heritage.
This year's poster is by artist George Molnar. Tickets for the evening shows are available at the door or purchased online. For more information, visit www.azcowboypoets.org.
More like this story
SUBMIT FEEDBACK
Click Below to: