Originally Published: August 3, 2017 8:40 p.m.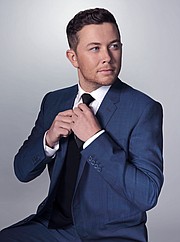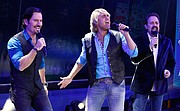 Jazz greats, American Idols, literary icons and one of history's most revered Rock 'n Roll bands — all are performing in Prescott this year, as part of Yavapai College Performing Arts Center's 2017-18 season.
The Beach Boys headline a schedule that includes an evening with cherished storyteller Garrison Keillor, a jaw-dropping visit to a master illusionist, Shakespeare, Celtic dance, gender wars, Gilbert & Sullivan and a chance to "come on down!"
YCPAC kicks off its 20-show season Saturday night, Aug. 26, when jazz legends and hometown heroes the Prescott Jazz Summit All-Star Big Band brings its signature bounce and sizzle to the Performing Arts Center. Next up is a date-night favorite: "Men are from Mars, Women are from Venus" (Sept. 8), translating John Gray's bestselling book into a rollicking live theatre piece that will have you laughing at yourself and your partner.
September will extend the summer, as The Beach Boys take the YCPAC stage Monday, Sept. 18. With a torrent of hit singles, and tens of millions of albums sold, The Beach Boys – Mike Love, Bruce Johnston, Scott Totten, Tim Bonhomme, Jon Cowsill, Jeffrey Foskett, and Brian Eichenberger – have changed America's musical landscape. Join them as they create and perform with the same bold imagination that marked their explosive debut over 50 years ago.
Then brace yourself for an evening of mind-blowing, high-energy illusion: "The Magic of Bill Blagg Live" (Sept. 23), which offers a family-friendly spectacle that will have parents and kids asking "how did he do that?" all the way home.
In October, YCPAC offers two astounding musicians at the top of their game. Grammy award-winning jazz trumpeter Chris Botti, America's biggest-selling instrumental artist, brings his innovative sound back to Prescott Oct. 12. Then Scotty McCreery – "American Idol" winner, and country music's rising star – raises the roof with his vibrant voice and heartfelt songwriting Oct. 26.
As the holidays near, YCPAC will celebrate with a fresh take on an honored classic and a cool new way to deck the halls. In The Hot Sardines' "Holiday Stomp," (Dec. 5), the brassy jazz combo leads you on a refreshing riff through a holiday songbook you only thought you knew. Then, in "White Christmas," The Musical (Dec. 14-17) YC Performing Arts delivers a vivid live telling of the story sprung from Irving Berlin's classic holiday tune.
"Come on down!" this January, as YCPAC hosts "The Price is Right Live" (Jan. 19), the live touring version of America's most beloved game show. Randomly selected contestants will play Plinko, spin The Big Wheel, and bid on the fabulous showcase. No purchase is necessary for a chance to be a contestant. For full official rules, call or visit the Box Office. Void where prohibited. January also brings the return of The Texas Tenors, (Jan. 28). "The America's Got Talent" sensations will bring their breathtaking voices to a patriotic program called "Let Freedom Sing!"
The Atlantic City Ballet christens February with a Sleeping Beauty production (Feb. 8) that features local dancers, gorgeous spectacle and Tchaikovsky's memorable score. On Saturday, Feb. 10, the BYU Young Ambassadors will delight audiences with a fast-paced salute to musical theater that includes works from "Hamilton", "Footloose," "Singin' in the Rain and The Wizard of Oz." Then Garrison Keillor, Lake Wobegon scribe, former "Prairie Home Companion" host and one of America's greatest storytellers, shares insights and inspirations with his Prescott audience Feb. 28.
March begins with the Utah Shakespeare Festival's gorgeous production of Shakespeare's "The Tempest" (March 5), before the New York Gilbert & Sullivan Players pit their "modern major general" against "The Pirates of Penzance," for comic opera chaos, March 8. March closes with Michael Londra and the Celtic Fire (March 23), blending the finest Celtic music and dance into a celebration of Irish culture.
April closes the YCPAC season with an encore from a favorite and a tale as old as time. YC Performing Arts presents "Beauty & the Beast" (April 6-14), a stirring, live-action telling of the hideous creature, his enchanted castle and the brave young girl who redeems them through the power of love. On April 21, New York jazz great Catherine Russell returns to Prescott for a night of jazz and blues classics in the Performing Arts Center.
In addition to its mainstage season, YCPAC will also return its critically acclaimed Cabaret series, featuring unique performers in an intimate, club-style setting. This year's Cabaret features folk/bluegrass songstress Dana Louise & the Glorious Birds (Nov. 17), and master guitarist and Windham Hill alumnus Sean Harkness (Feb. 23).

Tickets for Yavapai College Performing Arts Center's 2017-18 season are on sale now. For reservations, or more information, contact the YCPAC Box Office, 1100 E. Sheldon St., Prescott, between 10 a.m. and 4 p.m. Monday through Friday, or call 928-776-2000 (or 877-928-4253 toll free) or visit www.ycpac.com.